But recycling your weed stems into a potent and medicinal tea is an incredibly efficient way to use a 'byproduct' of our favorite sticky herb. A few simple steps for making cannabis stem tea. First – decide whether or not you want to grind up your leftover cannabis stems. Next, fill up a sauce pan with 3 cups of purified water – and get that water boiling. Once the water has come to a boil, begin to stir in the cannabis stems. Stir continuously for 8 – 12 minutes. Lastly, strain and pour. Add any extra flavors you may want. 
Weed tea is used all over the world to treat a variety of ailments including asthma, nausea and chronic pain. Drinking your medicine in tea form delivers relief dramatically faster than smoking which is what makes it so effective at treating auto-immune diseases such as multiple sclerosis, irritable bowel syndrome, and rheumatoid arthritis.  Cannabis tea also releases mood enhancers that boost overall positivity and reduce anxiety.
Tea is a great alternative for someone who doesn't enjoy smoking but still wants to soak up all the amazing benefits of cannabis. It is easy to dose yourself with tea, unlike other edibles that can make you feel out of control quite quickly.
Tea is an all around gentler and healthier high if made on the lighter side. Teas made with stems have a far milder effect and taste than teas made with pure bud. I have definitely been knocked out by weed tea, and have had some friends that say infused tea is the highest they've ever been — so don't say the experts didn't warn you.
What Is Cannabis Stem Tea?
Cannabis stem tea is much like its name implies. This dank concoction is actually a hot brew made from the byproduct stems left over from the marijuana plant once the buds have been removed (and probably consumed). It is relatively simple to produce, and sizeable batches can be steeped if you choose to share with your friends or throw a 420-friendly tea party.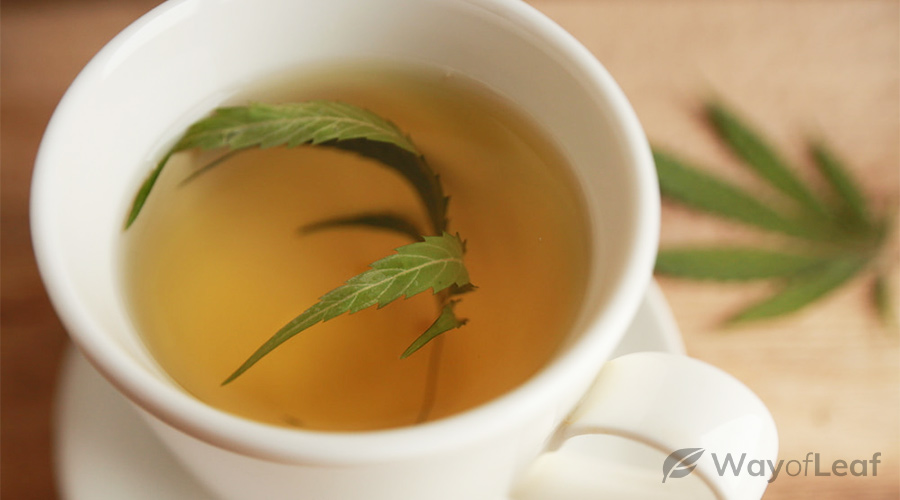 Unfortunately, it is not as simple as just crushing up the stems and throwing them in some hot water; certain factors have to be taken into consideration when soaking this part of the marijuana plant, which is where our handy step by step guide comes into play.
Why Would Someone Choose to Brew Cannabis Stem Tea?
Well, first of all, brewing cannabis stem tea is rather resourceful. You would probably be throwing those stems away anyways, and delicious weed should never go to waste. For this reason, it is concurrently economical, because you might be able to get a bit more time spent high for your money's worth.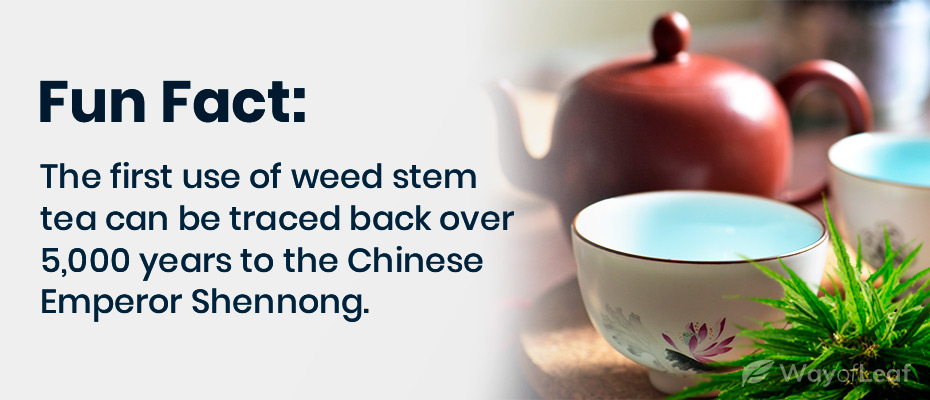 This calm-bringing brew also appeals to those who have a difficult time smoking or inhaling marijuana smoke, whether it be because of personal preference or a medical condition. Particularly for those with asthma or other respiratory issues, having the option to drink some tea and get a buzz from it or even medical relief, sounds like paradise.
Finally, those with certain medical conditions could actually benefit from this healing elixir's existence.
Ingredients for Weed Stem Tea
Weed stems (at least ¼ cup of them, but feel free to double or triple the amount)
2 cups of water for one serving, double with each person you'll be serving
Coffee filter, cheesecloth, paper towel, or another similar filter
Alcohol, butter, milk, or coconut oil for binding (just pick one for flavor's sake)
Saucepan for boiling water
Additional tea bag, sugar, or other flavors (optional)
How to Cook Your Tea
1. Gather Your Stems
You can decide if you want to grind your stems beforehand, but it's not necessary to do and may end up making the straining process more complicated.
So either grind up your stems or gather what you have and move on to the next step.
2. Boil Water
Fill your saucepan with water and bring to a boil. If you're using milk, butter, or oil, add it to the saucepan before bringing to a boil.Continue Reading Below
If you're using alcohol as a binding agent, do not add it to the water yet. It will boil out.
3. Add Stems to the Boiling Water
Add your stems to the boiling water and give it a good stir. Continue stirring frequently for the next 10-15 minutes.
4. Remove From Heat
Once you've stirred the stems in boiling water for a good 10-15 minutes, you can take the saucepan off the heat and allow it to start cooling.
If you didn't add a source of fat to the boiling water, now is the time to add alcohol. Three tablespoons should do the trick. You can use vodka, rum, or whatever alcohol you have on hand that might make a good pairing.Continue Reading Below
5. Strain the Contents of the Saucepan
Secure your cheesecloth, paper towel, or coffee filter over a cup or pot to pour the contents into. Slowly pour your mixture over the filter, straining the weed stems out.
6. Enjoy
I'm telling you to enjoy but deep down I know weed stem tea is not very tasty. This is a great time to add in additional tea bags to steep, honey, sugar, or other ingredients to make the tea more appetizing. Otherwise, you can drink it plain and really soak up the earthy flavor.
Does Weed Stem Tea Get You High?
In theory, yes. The verdict is out on just how much THC stems actually have. We know researchers have found small CBD and THC contents in hemp stems. This is notable because hemp typically has lower THC than other varieties of cannabis.
Scour the internet for a bit and you'll find several people who claim to have had success making stem tea. You'll also find people disappointed that nothing happened when they drank theirs.
What Are the Medical Benefits of Cannabis Stem Tea?
Although cannabis stem tea on its own has not been researched thoroughly, it is said to possess similar medical benefits to that of other parts of the cannabis plant. Consumers have reported that this concoction has assisted their anxiety, depression, asthma, chronic pain, body aches, migraines/headaches, asthma, nausea, autoimmune disorders, multiple sclerosis (MS), rheumatoid arthritis, and more. Most of all, drinking your cannabinoids is a way for the body to achieve faster acting relief, taking effect quicker than an edible would.