It's said that there's nothing in the world quite like the breathtaking natural splendor of New England in the fall. Aside from the foliage, Massachusetts draws visitors from far and wide thanks to the rich historical significance of Boston and surrounding areas, the magnificent seafood and watery vistas found in coastal villages like Cape Cod, and even the morbid curiosity of the witching capital of the world: Salem.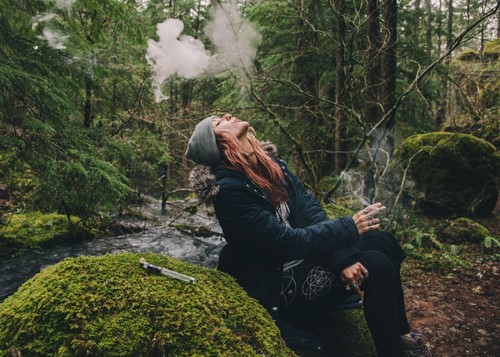 Find the best lodging in The Bay State with Kush Tourism.  Our hotels and B&Bs are personally vetted, and offer exceptional locations and value. Relax while you vacation in Massachusetts, enjoy legal pot, and the vibrant culture. Note that while the hotels below are smoking friendly or have designated smoking areas, they may not necessarily be cannabis friendly. Because Question 4 was passed on the eighth of November, more friendly lodging may soon sprout up. Until then, we recommend the discrete use of edibles and vaporizers when possible. Find the right accommodations for your vacation and reserve a room with one of the weed frienfly hotels below to 'highlight' your stay. Welcome to Massachusetts!
Due to the Boston's tricky legal situation with cannabis, it can be challenging to find places to legally consume Boston's finest herbs. There are only two legal consumption lounges in Massachusetts that allow you to consume cannabis legally.
The Summit Lounge, the only club of its kind in the state, is a members-only smoking club that allows its patrons to consume any legal smokable herb, including cannabis. Unfortunately, for those with less time on their hands, Summit Lounge's nearly two-hour drive from Boston may prohibit a visit outside of the city. Alternatively, cannabis tourism companies like Loopr operate in the market space that considers privately-chartered vehicles in the same category as privately-rented homes, allowing them to allow you to consume cannabis on the go throughout the city.
Marijuana is legal in Massachusetts for persons 21 years of age and older, but that doesn't mean you can use marijuana anywhere you want. The following are some of the basics about Massachusetts marijuana laws:
It is illegal to use marijuana in public or on federal land.
You may possess up to 1 ounce of weed, up to 10 ounces inside your residence, and up to 5 grams of marijuana concentrate outside of your residence. If you have more than one ounce of weed in a private residence, it must be in a locked space.
Adults may cultivate up to six cannabis plants at home in an enclosed space, and up to 12 plants per household.
It is illegal to operate a vehicle under the influence of marijuana.
It's also illegal to have open containers of weed in a vehicle. Any form of marijuana being transported must be stored in a closed container in the trunk or a locked glove compartment.
Landlords and local jurisdictions may have their policies about possession and use of weed.
You don't have to be a Massachusetts resident to purchase weed, but you must have a government-issued ID.
It is illegal to take marijuana outside the state of Massachusetts.
Dining and crafts with cannabis
The other option for consumption is attending a private event such as Infused dinners, Puff Pass Paint nights or High Tea events. These cannabis consumption events combine traditional activities like fine dining, painting, and tea socials with cannabis. Events like these are held privately at a variety of venues ranging from smoke shops and lounges to AirBnB's and private residences. You can usually find out more by messaging the organizers privately to see if you can secure an invite. Or, if you're looking for a cannabis-friendly event that's focused more on education and information, check out local cannabis conferences as well as the annual Boston Freedom Rally, organized by MassCann. Don't feel like your cannabis experience requires consumption; 76% of cannabis events in Massachusetts are non-consumption events.
Cannabis tours: information & consumption
If you really want to dive into Boston's cannabis scene, consider one of the many cannabis tours that are available throughout the city. These tours offer visitors the chance to legally consume cannabis while learning about what goes into the creation of cannabis vapes, edibles, and tinctures. Many tours offer the ability to combine cannabis with activities that you already know and love, including brewery tours, shopping, and sightseeing. Plus, you can ask all the questions you want from tour guides that know the local laws, trends, and must-see attractions.
Cannabis industry events
For an inside look at the local industry, consider attending one of the following cannabis-related events:
| | | |
| --- | --- | --- |
| Event | Date | Location |
| National Cannabis Industry Association's Northeast Cannabis Caucus | September 24, 2019 | Boston |
| Cannabis World Congress & Business Exposition Boston 2019 | October 24-26, 2019 | Hynes Convention Center |
| The Harvest Cup 2019 | November 9-10, 2019 | DCU Center |
| Northeast Cannabis Business Conference | February 18-20, 2020 | Boston |
| The 6th Annual New England Cannabis Convention | March 20-22, 2020 | Hynes Convention Center |
Enhanced Boston Experiences: The City's Best Places to Enjoy
While most of Boston's historic and tourist destinations aren't cannabis-friendly, they offer a great source of entertainment once you've already consumed cannabis. Places like public parks, trails, and attractions like the zoo or the aquarium's whale watch are breathtaking choices for recreational cannabis experiences. Below is a list of a few must-see Boston destinations to experience with cannabis:
1. Public Parks & Trails
Boston has no shortage of trails, gardens, and parks. Among them, the Boston Public Garden, the first botanical garden in the United States, boasts more than 600 varieties of trees and flowers. The Rose Kennedy Greenway and the Arnold Arboretum are must-see attractions for those interested in plants, shirts, and trees ranging from various perennials to three different types of bamboo.
2. Freedom Trail
The Freedom Trail is a unique collection of historic sites includes museums, churches, meeting houses, burying grounds, and more that tell the stories of the American Revolution and beyond. This historic trail is a spectacular chance to take a step back in time.
3. Skywalk Observatory
If heights aren't your thing, you'll want to skip this one. Boston's best view affords visitors the ability to see up to 100 miles away. See Hancock Tower, Fenway Park, The Boston Common, Harvard, and countless other landmarks from Boston's highest viewpoint, especially if you've prepared accordingly.
4. New England Aquarium Whale Watching
What may seem mundane to some will become mesmerizing with the help of cannabis. If you're visiting between April and October, consider a whale watching excursion during the peak of the season in the Bay State.
Whatever your plans, there's plenty that Boston's tourism and cannabis industries have to offer during your stay. One of our favorite recommendations is to try out a small serving of edibles while visiting one of the city's many historical sites. However high your adventures in Boston may take you, be sure to consume responsibly and legally. Using ride-share apps like Lyft are strongly advised, since driving under the influence of cannabis is illegal.
There are many Massachusetts pot shops carrying quality American-made glass pipes, bongs, blunts, vapes, CBD, e-juice grinders, dab nails, and accessories.
Eastie Smoke Shop
Located in 76 Bennington St, East Boston, MA, Eastie Smoke Shop is a premier smoke shop serving the greater Boston area and the surrounding areas. This smoke shop provides an incredible selection of premium E-juice grinders dry herb, vaporizers, wax, glass pipes, and other accessories from top brands. Eastie Smoke Shop has products of all kinds at fantastic prices to help weed lovers create the perfect smoking experience with one convenient stop. This is a one-stop-shop for cannabis enthusiasts.
In Boston, you can get recreational weed delivered right to you. Here's who to call:
#8 Potlala
This is one of the premier and most trusted online weed stores serving Boston, MA, and other U.S. states. You can order your favorite weed products online and get the finest weed delivered to your door with Potlala. This weed delivery Boston store offers high-quality and lab-tested flower, concentrate, edibles, and many other products. Potlala is a great choice as it provides fast and convenient weed delivery service around Boston. To order recreational marijuana from Potlala, you'll need a valid ID showing that you are over 21 years of age.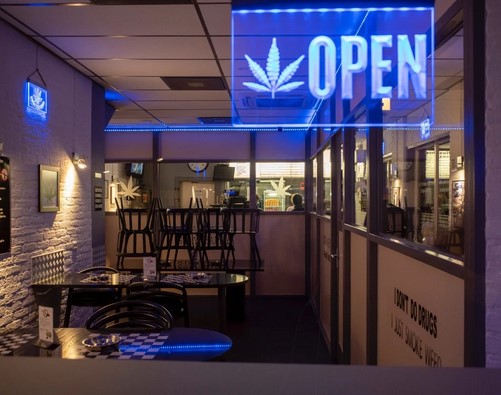 The following are some of the renowned cannabis lounges in Boston, Massachusetts, where you can hang out and enjoy your weed.
Eat Sacrilicious
Eat Sacrilicious offers a private, customized cannabis dining experience while staying focused on offering high-quality food. Guests can expect a 5-8 course dining experience paired with high-quality weed based on flavor profile, strain, and effect. Eat Sacrilicious's cannabis dinners are customizable, based on guests' tastes and preferences. Their dining experience is curated to the season and local ingredients. Aside from providing a high-end dining experience, Eat Sacrilicious ensures guests walk away with a stronger understanding of cannabis and the different ways to consume it.
The Summit Lounge
Located in 116 Water St, Worcester, MA, The Summit Lounge is a premier private club that provides a welcoming space for weed lovers to socialize and have fun. The lounge provides a safe, clean and stigma-free environment for weed lovers to come together and socialize. The lounge sells CBD products, pipes, bongs, and other devices but does not offer THC products. You can bring your weed, joints or edibles and get high at The Summit Lounge. This lounge offers a cultivation class on the first Wednesday of every month whereby guests interested in cannabis growing can learn from experienced cultivators. The Summit Lounge is open Monday-Wednesday, 2 pm to 10 pm and Thursday-Saturday, 12 pm to 12 am.
Loopr
Loopr combines a mobile cannabis lounge with a convenient transportation service that delivers the ultimate social cannabis experience. This mobile lounge features a safe, welcoming environment and has responsive staff who are always happy to attend to guests. There's lots of charger ports available on board in case you want to charge your gadgets. Not only will you have incredible fun on Loopr, but you'll also learn more about cannabis culture. Loopr allows you to visit a curated selection of dispensaries and cafes, and meet like-minded people. If you're looking for a mobile cannabis lounge that doubles as a 420 tour in Boston and the nearby areas, Loopr has got you covered.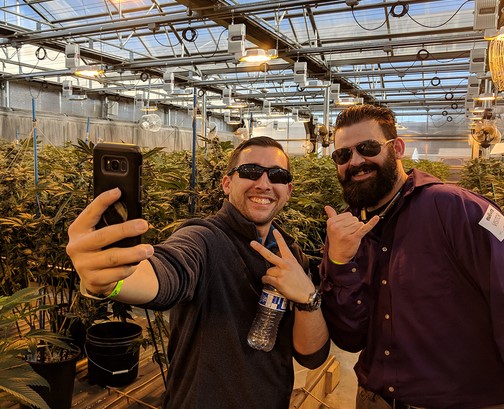 Boston Museum of Fine Arts
Located in 465 Huntington Ave, Boston, the Museum of Fine Arts is an incredible place to spend time while stoned. This museum houses more than 450,000 art collections and it's renowned for impressive paintings, Egyptian and Asian collections, and contemporary art. You can spend hours exploring art collections dating back to the ancient world. Whether you're interested in photography, contemporary art, ancient art, prints, or drawings, this museum has everything a weed lover would love to explore. The Museum of Fine Arts is open Wednesday – Friday, 10.00 am -9.45 pm and Saturday-Tuesday 10.00 am-4.45 pm.
Skywalk Observatory
You can visit the Skywalk Observatory and enjoy the spectacular views of Fenway Park, Hancock Tower, the Esplanade and Hatch Shell, the Boston Common and Public Garden, Harvard University, MIT, Charles River, and many other Boston landmarks. On a clear day, you can gain a bird's eye view of Boston. Located in the Prudential Center Mall, the Skywalk Observatory offers a sky-high vantage point for breathtaking views of Beantown. Here, you'll experience the Acoustiguide audio tour whereby Boston's main areas of historic and cultural interest will be detailed, so you don't miss out on anything. A visit to the Skywalk Observatory will allow you to appreciate Boston's magnificent architecture and its rich global culture. The Skywalk Observatory is open seven days a week.
The Arnold Arboretum
This is a lovely spot to hang out while high. Located in the Jamaica Plain and Roslindale neighborhoods on Boston, the Arnold Arboretum consists of expansive parks linked by waterways and parkways. The arboretum consists of different species of trees, shrubs, and vines, which are well marked and described. Here, you can enjoy an ambient atmosphere on a quiet afternoon while learning about different trees and shrubs. The arboretum has an art exhibition center, and a horticultural library in the Hunnewell Building, where you can experience art exhibitions inspired by trees. You can also climb up the Bussey Hill Road and enjoy beautiful views of the surrounding. The Arnold Arboretum is open all year round to the public and it's accessible for wheelchair users.
  1. Hotel Commonwealth
(617) 933-5000 500 Commonwealth Ave
Great hotel located above the Kenmore station on the green line. Perfect location.
  2. Courtyard by Marriott Boston Logan Airport
 (617) 569-5250 225 William F McClellan Hwy
Saw the van driver go by twice. The hotel was ok, but the desk people on this night were rude.
3. Ramada by Wyndham Boston
 (800) 252-1709 800 Morrissey Boulevard
4. JetBlue
(800) 538-2583 Located in Boston Logan International Airport – BOS
5. Thrifty Car Rental
(877) 283-0898 100 Tomahawk DrEast Boston
6. British Airways
(800) 452-1201 Located in Boston Logan International Airport – BOS East Boston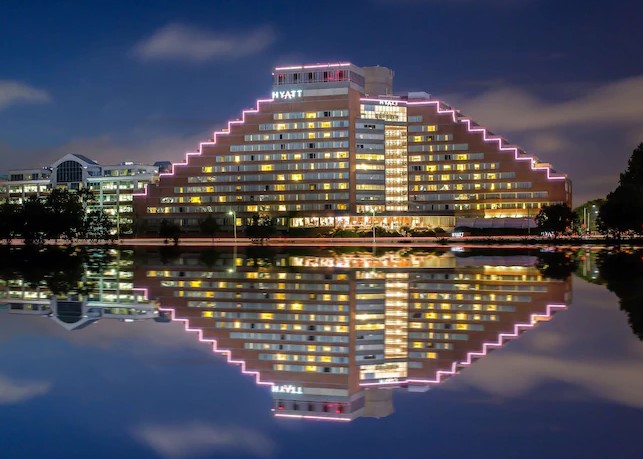 Hotels with Balconies & Smoking Rooms
1. DoubleTree Suites – Boston / Cambridge
400 Soldiers Field Road, Boston, MA, 02134
2. The Bostonian – Boston
26 North St, Boston, MA, 02109
3. Hyatt Regency Cambridge
575 Memorial Drive, Cambridge, MA, 02139
4. Courtyard by Marriott Worcester
72 Grove Street, Worcester, MA, 01605
5. The Verb Hotel
1271 Boylston St, Boston, MA 02215
6. Best Western Plus – Waltham / Boston
380 Winter Street, Waltham, MA, 02451
7. Courtyard by Marriott – Woburn / Boston North
700 Unicorn Park Dr, Woburn, MA, 01801
8. Quality Inn & Suites – Lexington
440 Bedford St, Lexington, MA, 02420
9. DoubleTree Hotel – Boston / Andover
123 Old River Rd, Andover, MA, 01810
---
From world-class weed dispensaries to high-end Massachusetts pot shops to weed-friendly accommodation options, and many amazing things to do in Boston while high, BeanCity has everything you need for a memorable 420 vacation. Aside from the informative Boston cannabis tours, this city has many weed-friendly lounges where you can hang out and enjoy your favorite weed products. With its favorable weed laws and weed-friendly facilities across the city, visiting Boston can be a memorable experience for any weed lover.