Cannabis comes in a variety of different colors, most of them are just different shades of green though. The orange pistils and dusting of resin help give cannabis its distinct look, but some strains go above and beyond in the hue department.
Purple cannabis is immensely popular among cannabis connoisseurs, in fact many of the world's most coveted strains contain shades of purple. It's clear to see why so many people are attracted to these richly colored buds, they are a feast for the eyes. In a sea of green buds, a purple bud really does stand out and grab your attention.
Let's take a look at what makes these cannabis strains purple, then we'll discuss 20 of the most popular purple weed strains in the world.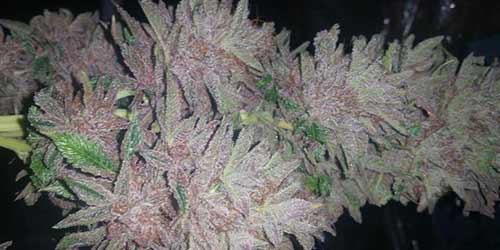 What Makes Weed Purple?
Years ago, the only purple strains you could find were only purple due to environmental conditions. Plants grown outdoors that were subject to prolonged periods of cold temperatures would start to develop a purple color.
Anthocyanins are a group of pigment molecules that are responsible for giving many plants their purple, blue or even red color. These anthocyanins are found in the cannabis plant as well, however they aren't often found in high enough quantities to alter the appearance of the plant.
Exposing cannabis plants to cold temperatures will impact the anthocyanin production and begin to turn the leaves, buds and stems purple.
Today, selective breeding and genetic augmentation allows cannabis growers to produce purple plants without subjecting the plants to cold weather. You can grow purple cannabis strains in a controlled environment without stressing the plants out.
Using LED grow lights can also help bring out the natural hues of your cannabis plants, maximizing the vibrancy and color contrast when compared to HID / HPS / MH grow lights.
Popular Purple Weed Strains
It's important to note that purple weed strains can vary pretty widely in terms of the degree of the purple hue. Some buds may be vividly purple with almost no green color, others might have next to no purple at all.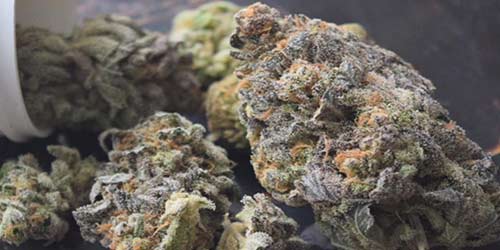 Granddaddy Purple (GDP)
Indica
Purple Urkle and Big Bud come together to create one of the world's most popular purple strains, Granddaddy Purple aka GDP. Granddaddy Purple develops a deep purple color that foreshadows its distinct grape / berry aroma and flavor.
Grape Ape
Indica
The legend, Mendocino Purps came together with Skunk and Afghani in order to give the world the amazing Grape Ape strain. This indica dominant strain has bold purple leaves and an unmistakable grape aroma.
Purple Haze
Sativa
The only Sativa strain on the list, Purple Haze is one of the most sought after strains in the world. It was named after Jimi Hendrix's hit song, in part due to it's distinctive lavender color and because one of its parents is the Haze strain.
Mendocino Purps
Hybrid
This strain earned the nickname "The Purps", need we say more? Well, we will. Mendocino Purps starts off purely green, earning the purple color in the last weeks of flowering. It became a household name after earning a top 10 spot on High Time's Strain of the year list in 2007.
Obama Kush
Indica
Born from Afghani and OG Kush strains, Obama Kush is truly a presidential strain. It offers well-rounded yet mild effects which is great for the average user. Generally Obama Kush has a slight purple hue beneath the thick dusting of resin.
Blackwater
Indica
Be careful when wading through the Blackwater strain. It's powerful sedative effects are best suited for before-bed sessions as they can sap productivity and leave you feeling really 'stoned'. Blackwater has a deep purple color and a grape-like aroma.
Purple Urkle
Indica
A flavorful strain with notes of sweet berry and grape, the genetics of which are somewhat unknown. Purple Urkle is thought to be a descendant of either Mendocino Purps or Granddaddy Purple, either way it's a winner!
Sour Grape
Hybrid
The name says it all, expect a powerful sour grape flavor from this strain. Sour Diesel and Granddaddy Purple were crossed to create the oh-so pungent Sour Grape.
Purple Skunk
Hybrid
Purple Skunk is actually a sativa dominant hybrid that combines Skunk #1 genetics with a classically purple strain to give it its color. Skunk #1 is a very powerful strain, so expect Purple Skunk to be a hard-hitting strain with plenty of kick.
Purple Space Cookies
Hybrid
Originating in British Columbia, Canada, this B.C. bud is a must try! Girl Scout Cookies crossed with Durban Poison and grown organically in Canada, it tastes as amazing as it looks!
Purple Cheese
Hybrid
A less pungent version of its parent Blue Cheese, with a combination of Purple #1 and Lowryder. Purple Cheese has a sweet, fruity taste with a mild cheese aroma; much more palatable than the Blue Cheese strain. Cold nights really help to bring out the natural purple hues in Purple Cheese.
Lavender Jones
Hybrid
Strains Purple Urkle and the Sativa, Casey Jones gave birth to the beautiful Lavender Jones. The name aptly describes both the aroma and the color of these perfume laden buds. Light green, purple buds emanating scents of lavender and fresh spring flowers.
Purple Kush
Indica
Hindu Kush and Purple Afghani bred the gold standard in cannabis according to many marijuana enthusiasts. Purple Kush is a pure indica that will bring on feelings of euphoria as it puts you on the couch.
Purple Voodoo
Hybrid
Double Purple Doja, Purple Urkle and Purple Diesel were crossed in California to produce a strain high in THC and CBD. Purple Voodoo is a fantastic medical strain due to its ability to relieve pain. The dark green buds have hints of purple that give clue to the sweet, grape-like flavor.
Grape Skunk
Indica
Grape Skunk combines a couple of our favorite strains, Grapefruit, Blueberry and Super Skunk. These esteemed genetics give Grape Skunk a seriously fruity flavor with undertones of that dank skunk aroma.
Purple Diesel
Hybrid
A hybrid strain with the effects of a Sativa, and the pain relieving benefits of an Indica. A Bubba Kush and Sour Diesel cross created Purple Diesel, a pungent strain delivering a joyful buzz.
Purple Berry
Indica
The powerful and colorful Granddaddy Purple, along with the Blueberry strain gave birth to Purple Berry. It has dense flowers that contain hints of purple, blue and even pink.
Purple Trainwreck
Hybrid
Granddaddy Purple is at it again, this time an affair with the Trainwreck strain to create the vibrantly beautiful Purple Trainwreck. The resinous purple buds give off a citrus-y, berry aroma with the classic grape taste.
Blue Knight
Indica
Kryptonite and Blueberry came together to make this rare, and delightfully flavored Indica. Blue Knight has deep blue, purple hues throughout the buds. It presents a richly flavored vanilla aroma with hints of berries and earth.