What could be more wholesome than making your own marijuana edibles at home? Imagine your own "special" cookie jar kept hidden away for illustrious high occasions.
Baking your own stone is as easy as pie.
A growing number of Canadians are already turning to edibles because they are healthier on your lungs and body – eating avoids the toxic chemicals that smoking creates.
Constellations Brands, a major American wine, spirits and beer company, recently bought a minority stake in Canada's dominant weed producer Canopy Growth. Other U.S. companies like Toast, Lost County and Mirth Provisions make drinks and tonic infusions and are looking to cut their own deals with licensed Canadian producers.
The one negative: the feds won't be rolling out their plans for marijuana edibles until at least a year after recreational weed becomes legal sometime this summer.
And edibles supplies in Toronto have grown scarce with the ongoing crackdown on storefront dispensaries. The only legal way to get a hold of them is through a doctor's prescription, and you need to have a legitimate ailment to get a prescription.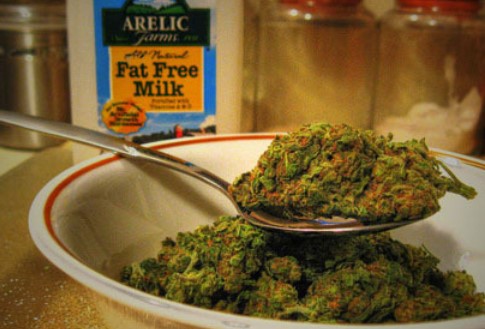 That leaves you with making your own. If you're not the homemaker type, don't despair. There are a number of easy recipes to make cookies and brownies without having to go through the complicated steps of carbonating your weed.
Oil is an essential ingredient. Any cooking oil, such as olive oil, canola or butter, when combined with marijuana loosens the THC from the plant, making the psychoactive ingredient digestible for humans.
Just as you won't get high if you eat raw cannabis, you won't get high if you omit the oil from your cooking.
Some chefs like to gently dry their cannabis in the oven for about 20 minutes (at no more than 115 Celsius) before using it in a recipe. This process is called decarboxylation and increases the potency of your edibles and may also improve taste. I skip it and still have been very happy with the results.
Here are three quick and tasty treats you can make with ingredients in your kitchen.
Gram pancake for two
For when you have only a gram of weed and have a hankering for a powerful high
Ingredients
1 gram weed ground to a powder
2 teaspoons cooking oil or butter
½ egg beaten
1 tablespoon and 2 teaspoons flour
1 teaspoon sugar
Your favourite jam
Directions
In a heat-resistant small bowl, combine your weed with oil or butter and gently warm over low heat on the stovetop for two to three minutes. Remove, let cool and then stir together with egg, flour and sugar until well combined into a batter.
Pour into a hot, oiled skillet over medium-high heat and cook until underside is brown on edges. Flip and cook until done (about two minutes).
Add your favourite jam on one side. Fold in half to make a half moon and cut in half to make two servings. Great with your afternoon tea or coffee.
Cheater weed brownies and cookies
A simple recipe for when all you have left in your stash is shake and need to feed a small party
Ingredients
Any name-brand brownie or cookie mix
Directions
Most mixes come with about 500 grams or 2½ cups of powder. It is essential that any mix you buy incorporates oil or butter. I recommend boosting the oil or butter called for by about 25 per cent. Then follow the package instructions, combining 1 part powdered cannabis leaves to 2 parts cookie or brownie mix. And voilà.
Alice B. Toklas's hashish fudge
Gertrude Stein's confidante and lover published The Alice B. Toklas Cookbook in 1954. It included the recipe for "hachich fudge." Toklas called this fudge "the food of paradise." She said it would liven up any gathering and recommended eating no more than two pieces.
Ingredients
1 teaspoon black peppercorns
1 whole nutmeg
4 average-sized sticks of cinnamon
1 teaspoon coriander
½ cup chopped mixture of stoned dates, dried figs, shelled almonds and peanuts
¼ ounce weed warmed over the stove for two or three minutes and ground to a powder
¾ cup sugar
1 stick or 8 tablespoons softened butter
Directions
Using a mortar and pestle, pulverize peppercorns, nutmeg, cinnamon and coriander, then combine the spice mixture with dates, figs, almonds and peanuts in a large bowl. Add weed and knead together. Combine sugar and butter until smooth. Add to fudge mixture and mix thoroughly. Continue to knead until the mixture can be rolled into balls about the size of a walnut. According to Toklas, you should be prepared for hysterical fits of laughter and thoughts that might take you to "many simultaneous planes."
The "Firecracker" Is The Easiest Weed Edible You Will Ever Make
Given that this is Foodbeast, I probably don't need to explain why edibles are amazing, but I'm going to do it anyways. First of all, edibles give you a completely different high. It's more like a really awesome, visceral body high. Secondly, they really come in handy if you're looking to be buzzed for an extended period of time but don't want to take your stash with you.
One downside to edibles, though, is that they usually take a while to make, not to mention some skill. I'm not sure about you, but ain't nobody got time to make canna-butter or canna-oil. That's why I present to you, the "Firecracker." Some of you true stoners out there may have heard of this concoction before. If you haven't, all you need to know is that the dish only requires three ingredients, 30 minutes, and an oven. Perfect for when you want that edible but didn't plan far enough ahead for brownies.
One thing to note about Firecrackers is that I like to describe them as a "choose your own adventure" high. You have direct control over how much weed you're putting onto the graham cracker, which means you can decide how high you're going to get. One gram is standard per Firecracker, but if you have a low tolerance, you can customize to your preferences. Also, remember that edibles take a little while to kick in. Don't be that noob who goes in for seconds 30 minutes later because you don't think the edible will work. Have faith.
Firecrackers
Ingredients:
1 graham cracker sheet
1-2 tablespoons peanut butter
1 gram of weed, if you wanna get hella hyphy
Directions:
Preheat oven to 325 degrees Fahrenheit. Lay out a sheet of aluminum foil.
Break graham cracker in half.
Grind weed in your grinder, or pick apart until as fine as possible.
Sprinkle weed on top of peanut butter. Make sure all pieces are in contact with the peanut butter, as the weed needs to be in contact with the fat from the PB in order to extract the THC.
Sandwich the two graham cracker pieces together.
Wrap in foil and place in the oven for 25-30 minutes.
Basic Chocolate Chip Cookie Dough Recipe
Ingredients:
1/2 Cup Softened Butter
1/2 Cup Natural Cane Sugar
1/2 Cup Light Brown Sugar
1 Egg
1 Teaspoon Vanilla
1/2 Teaspoon Salt
1 Teaspoon Baking Soda
1 1/2 Cups Whole Wheat Flour
1-2 Cups Chocolate Chips
OPTIONAL – Boost the potency with 3/4 teaspoon of sunflower lecithin
Directions:
Blend butter and sugars together until fluffy
Mix in egg and vanilla
Add flour, salt, baking soda, and sunflower lecithin (optional), mixing until well combined
Stir in chocolate chips
Bake at 350 for 9-10 minutes
Enjoy!