Cannabis tea is a soothing drink made by steeping cannabis in hot water. Weed tea has been used for millennia to treat a variety of ailments from nausea to chronic pain.
Drinking your weed in tea form offers the same potent and long-lasting effects as edibles, but with little-to-zero calories. Tea is also an excellent option for individuals who don't enjoy, or want to avoid the potential risks of, smoking but still want the benefits of cannabis.
What are the effects of weed tea?
Since weed tea is basically an edible, the effects are the same as consuming the same amount of the same strain via other edible methods. It can take about 30 to 90 minutes for the full effects of weed tea's THC to kick in, but the actual onset you can expect depends on a variety of factors, including the makeup of your endocannabinoid system and other health factors.
It's important to dose in moderation, follow the "start low, go slow" adage, and wait at least two hours after consuming cannabis tea before ingesting any more. Also, as an edible, the THC in weed tea metabolizes in the liver, which transforms it into the much more potent and long-lasting 11-hydroxy-THC. The effects of weed tea typically last up to eight hours. What do you need to make weed tea?
It's simple to brew cannabis tea with a few ingredients, supplies typically lying around the house, and your favorite bud. For this recipe, you'll need to assemble the following:
Ingredients:
1 gram of cannabis.
1 tbsp of unsalted butter OR coconut oil.
1 teabag, or loose-leaf tea, if preferred.
4 cups of water.
Any ingredients you'd add to tea, such as honey or cinnamon.
A mug.
A teapot or saucepan.
A spoon.
A fine strainer, cheesecloth, or coffee filters.
To begin, grind your cannabis until it's broken up but not completely powdered. You can also opt to chop your bud with a sharp knife. Be sure to separate all the stems and seeds from the mix, if desired.
Boil four cups of water in the teapot on the stove. Once the water boils, add the butter or coconut oil and allow it to completely dissolve. This fatty addition acts as a binder for the cannabinoids so they distribute throughout the tea.
Next add the cannabis and the teabag/loose-leaf tea. Allow to boil for 7 to 10 minutes, stirring frequently. To boost the potency, you can add additional trim, stems, or flower during this step.
After 10 minutes, the tea should be thoroughly infused. Remove from heat and remove the teabag. Now it's time to filter out the plant matter from your tea. Using a teapot, it's easy to secure a coffee filter around the spout with a rubber band or place the filter inside the teapot. If you used a saucepan, secure the coffee filter over the top of a mug to strain the tea. Another option is to use a tea infuser for the cannabis and/or loose tea.
Voila, you're ready to enjoy infused weed tea. Feel free to add any milk, cinnamon, honey, or lemon as desired. Sweet additions such as honey or sugar are popular choices to mask the distinct weedy flavor. Follow your heart and taste buds and enjoy!
Healthier High With Cannabis Tea
Ingredients: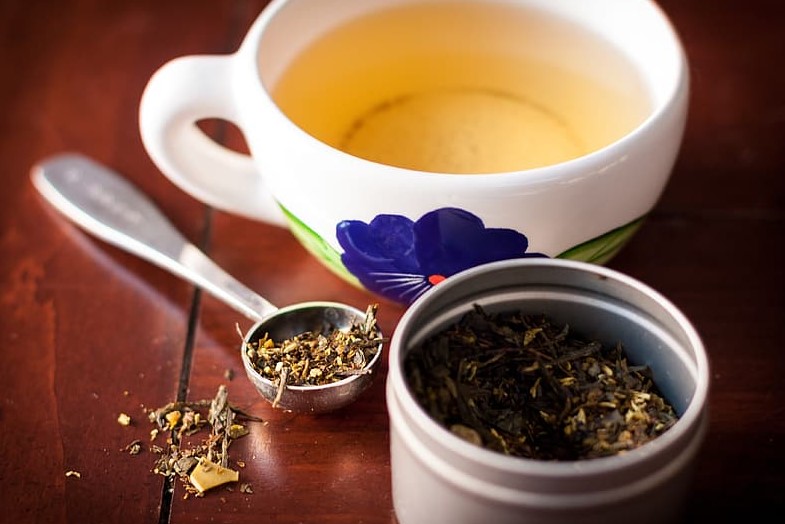 1 gram of ground cannabis (Sour Tangie or any citrus-scented strain works well);
1 tablespoon of unsalted butter or coconut oil;
Teabag of your choosing (classic English Breakfast is always good);
4 cups of water;
Any other ingredients for flavor such as honey, milk, sugar, cinnamon, etc.;
Cheesecloth or a fine strainer.
Makes about three regular mug-sized cups of tea. Recommended dosing: one cup per person, and not within two hours of heading out to drive or operating serious machinery.
Instructions:
Step 1: Boil 4 cups of water in a medium-sized pot. Once it's boiling, add the tablespoon of butter or coconut oil and allow it to completely dissolve. THC needs something fatty to stick to under high heat — that's how we separate the good stuff from the plant material.
Step 2: Add your gram of ground cannabis into the boiling pot, and turn the temperature down to a simmer.
Step 3: Allow this mixture to simmer for fifteen minutes. For really great weed or really passionate cannabis-foodies, it can be worth it to simmer at as low a temperature as possible for a longer period of time in order to preserve the more nuanced flavors of that strain. Terpenes are the first to burn off when things get too hot, too fast.<
Step 4: Now it's time to strain out the little bits of cannabis. There's too much water to strain straight into your mug (unless it's enormous), so grab a bowl or ideally an empty teapot. If you're using cheesecloth, secure it around the top of the teapot or bowl with a rubber-band or string. You can always ask your quarantine mate to hold the cheesecloth in place around the top, or solo chefs can anchor it on all sides with something heavy. Carefully and slowly pour the boiling mixture through the cheesecloth and into your chosen vessel. You can always just use a metal strainer, but it needs to be a fiiine strainer unless you're cool with leafy bits in your teeth.
Step 5: Add your teabag into the teapot, along with any desired extras like mint, lemon, honey, or a cinnamon stick and stir well. It'll help moderate that herby flavor. Steep for about three minutes.
Step Yay: Remove the teabag, stir well to incorporate the infused butter throughout, and pour yourself a cup.
There is going to be a subtle weed-y flavor no matter what, but you can add some more milk and sugar to balance it out. Many find pre-made chai has a strong enough flavor to complement the herbal notes. Remember that your body will still digest it like an edible, so be patient. Depending on whether you've eaten recently and your body's metabolism, it could take up to an hour and a half to feel effects.Sip safely out there.