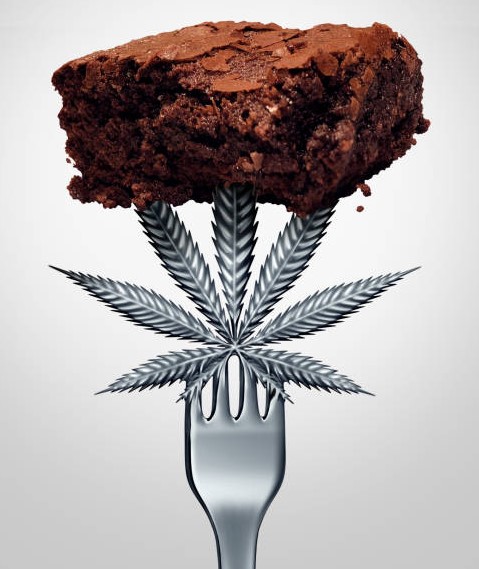 Chocolate brownie is one of those desserts that goes well at any time of the day and, of course, if it's well done, it is equally liked by children and adults,  by the sweet tooths of sugar and by those who move more for the delicious flavor of cocoa; and of course, the brownie (with marijuana star ingredient) is one of the favorite desserts for marijuana lovers, because its simplicity in the combination of sweet chocolate with our universal medicine.
Thus, it is not surprising that this sweet of American origin is one of the classics among the recipes made with marijuana, and for this reason, today we want to give you one of the hundreds of versions that exist about it.
Blondies are lighter and sweeter "cousins" of the brownie that taste like rich caramel when made with cannabis butter, unsalted butter, and brown sugar. Next, add the ingredients in this order: vanilla extract, egg and flour. Once everything is mixed, pour it into a medium-sized baking dish and bake for 20 – 25 minutes. When they are cooled they are ready to eat.
For many of us, when we think about cannabis edibles, the first thing that pops to mind is a classic brownie. Infused brownies represent one of the best-known consumption methods for cannabis among consumers, even though the world of edibles has expanded far beyond this.
Slight tweaks to a traditional recipe like adding more chocolate or sprinkling on some nuts can improve the flavor of brownies in ways that keep people interested.
The Best Cannabis Brownie Recipe #1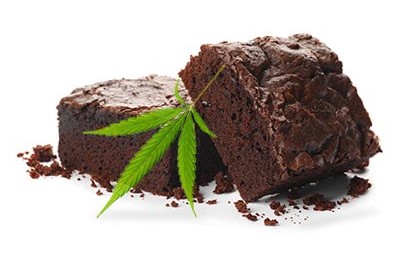 Ingredients
1 cup (8 oz, or 2 sticks worth) cannabutter
1 cup white sugar
2 eggs
1 teaspoon vanilla extract
1/3 cup unsweetened cocoa powder
1/2 cup all-purpose flour
1/4 teaspoon salt
1/4 teaspoon baking powder
Optional Frosting
3 tablespoons butter (or cannabutter), softened
3 tablespoons unsweetened cocoa powder 1 tablespoon honey
1 teaspoon vanilla extract
1 cup confectioners' sugar
Directions
Preheat oven to 350 degrees F (175 degrees C).
In a large saucepan, melt 1 cup cannabutter.
Remove from heat, and stir in sugar, eggs, and 1 teaspoon vanilla.
Beat in 1/3 cup cocoa, 1/2 cup flour, salt, and baking powder.
Spread batter into a greased and floured 8-inch square pan.
Bake in preheated oven for 25 to 30 minutes, until sides start to pull away from the edges and the center has set.
The Best Cannabis Brownie Recipe #2
This recipe uses cake mix instead of brownie mix, which makes it a little lighter. Perfect for those who don't want "fudge-like" brownies, but still want something simple to make! I personally prefer a lighter brownie to a fudge-like brownie, and I've been happy with this pot brownie recipe for that purpose!
Ingredients
1 pkg. Devil's Food cake mix
1 cup (8 oz, or 2 sticks worth) cannabutter
3/4 cup Evaporated Milk
(optional) 1/2 cup chopped nuts and/or chocolate chips
Directions
Preheat oven to 350° F.
Melt cannabutter in a large bowl
Add cake mix, evaporated milk and nuts/chocolate (optional), and combine it into a thick batter.
Spread batter into an ungreased 13″ x 9″ baking pan. It will be pretty thin, but should fill the whole pan. Bake for 10-15 minutes, or until edges start pulling away from the sides and the center is set.
Cool in pan on wire rack and cut into 15 squares
The Best Cannabis Brownie Recipe #3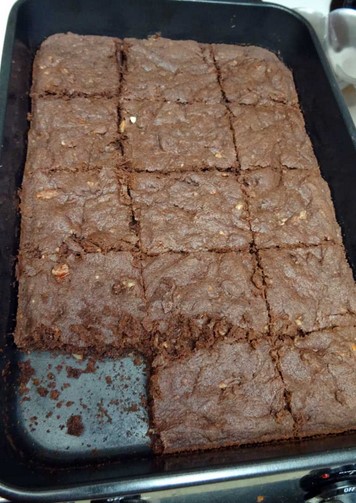 INGREDIENTS:
7 ½ tablespoons (3 ¾ ounces) unsalted butter
1 ½ teaspoons (1/4 ounce) cannabutter
6 ounces dark chocolate, 60-70% cacao
1 cup all-purpose flour
1/2 teaspoon baking powder
2 large eggs, at room temperature
1 cup sugar
1 teaspoon pure vanilla extract
1/4 teaspoon salt
DIRECTIONS:
Preheat oven to 350℉. Grease an 8-inch square cake pan with butter or cooking spray; set aside.
Melt butters in a medium saucepan over medium heat. Stir in chocolate until combined and smooth. Remove from heat and allow to cool for 5 minutes.
In a small bowl, whisk together flour and baking powder.
In a large bowl, whisk together eggs, sugar, vanilla, and salt until fluffy and light yellow. Add chocolate mixture and mix until combined. Add flour mixture and mix until combined.
Pour into greased pan and bake for 20-25 minutes, or until the edges pull away from the pan and the top has an even, shiny crust. Let cool for 20 minutes.
Cut into 12 even pieces. Serve warm (can be stored in an airtight container at room temperature for one week or in the refrigerator for up to a month).
The Best Cannabis Brownie Recipe #4
INGREDIENTS:
100 grams of cannabutter
4 eggs
1 cup sugar
Half a cup flour
200 grams of chocolate to melt, if possible, special for desserts
4 grams of marijuana (0.5 g per person)
DIRECTIONS:
First we put the oven to heat to 120ºC (it won't cost us anything to make the dough, so the ideal thing is to be ready to put our mixture as soon as we finish preparing it).
Next, heat a frying pan, to which we will add the butter and chocolate that we are going to mix little by little.
While this is being done, in a bowl, add the eggs, sugar, flour and stir. You can do it with a fork or, the easiest thing (even if it's not, gastronomically speaking, the most professional thing) is to take the mixer and in half a second it's all mixed without unpleasant lumps.
Finally, add the chocolate and marijuana that will have to be very well crushed and put it in the oven.. How long? It depends on how patient you are. At 120 degrees, in 60 minutes you have it. To check it out, just open the oven after that time, prick the brownie with the tip of a knife and if comes out clean, it's ready.