Secreted in the same glands that produce cannabinoids like THC and CBD, terpenes are aromatic oils that color cannabis varieties with distinctive flavors like citrus, berry, mint, and pine.
Not unlike other strong-smelling plants and flowers, the development of terpenes in cannabis began for adaptive purposes: to repel predators and lure pollinators. There are many factors that influence a plant's development of terpenes, including climate, weather, age and maturation, fertilizers, soil type, and even the time of day.
Over 100 different terpenes have been identified in the cannabis plant, and every strain tends toward a unique terpene type and composition. In other words, a strain like Cheese and its descendants will likely have a discernible cheese-like smell, and Blueberry offspring often inherit the smell of berries.
Terpenes may also play a key role in differentiating the effects of various cannabis strains – challenging standard beliefs held about indica vs sativa strains. However, more studies are needed to understand how and to what extent.RelatedIndica vs. sativa: understanding the differences between weed types.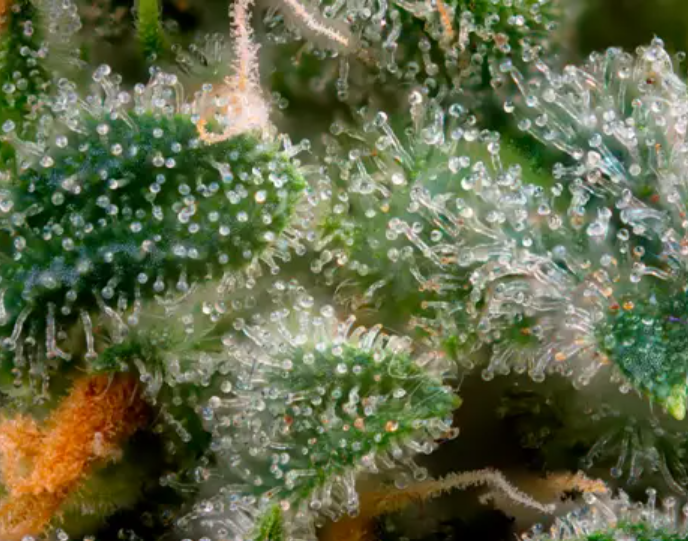 Some terpenes might promote relaxation and stress-relief, while others potentially promote focus and acuity. Myrcene, for example, is found in many relaxing cannabis strains like Blue Dream and Granddaddy Purple. Terpinolene is commonly found in uplifting, active strains like Jack Herer and Ghost Train Haze.
The effect profile of any given terpene may change in the presence of other compounds in a phenomenon known as the entourage effect. More research is needed to understand each terpene's effect when used in harmony with others.
How are they different from cannabinoids?
Cannabinoids, such as tetrahydrocannabinol (THC), activate receptors in the body's endocannabinoid system. This is what creates the "high" that people experience when they use cannabis.
Cannabidiol (CBD) is another cannabinoid that is becoming more and more popular for its medicinal properties. Although CBD acts on some of the same receptors as THC, it influences them differently and does not create any euphoria.
THC and CBD may be the most well-known cannabinoids, but they are just two of over 100 cannabinoidsTrusted Source that the cannabis plant contains.
The cannabis plant also contains terpenes, which are among the most abundant compounds in the natural world.
Terpenes are primarily responsible for the smell of most plants and some animal compounds. However, some may also act on the endocannabinoid system in the body in a similar way to cannabinoids. The key difference is that the body absorbs and uses these compounds in different ways.
For more information and resources on CBD and CBD products, please visit our dedicated hub.
Do terpenes affect people?
Many terpenes are bioactive, which means they may affect the body. This effect will vary based on the concentration of the terpene itself and how a person uses it.
Because terpenes produce vibrant smells, they form the basis of many essential oils and are an integral part of many alternative therapies, such as aromatherapy. Inhaling the scents from some plants and essential oils may affect a person's mood and stress levels.
Some people believe that terpenes will affect or enhance the high a person gets from using cannabis. This is known as the entourage effectTrusted Source, and it implies that terpenes enhance or alter the effects of THC and CBD in the body.
Some research backs up these claims. For instance, a review in Frontiers in NeurologyTrusted Source found that people with epilepsy who took a CBD-rich extract had improved symptoms and fewer side effects than those who took purified CBD. This suggests that the other components in cannabis, such as terpenes, may affect how the body uses CBD.
There is plenty of medical research on isolated terpenes themselves, and some may even make their way into medical use. A study in Chemico-Biological Interactionsnotes that many terpenes have demonstrated beneficial effects on the body and could serve as alternative medicine or therapies.
More about terpenes
Terpenes are aromatic molecules responsible for the unique aroma of each cannabis cultivar. The appealing aromas and flavors we experience when we consume cannabis are all thanks to terpenes. Each cannabis cultivar has its own unique aroma because it has its own distinct terpene content. Whether you smoke cannabis flower, dab concentrates, or vaporize either, these molecules are hard at work delivering tasty citrus, diesel, woody, pine, skunky, coffee, spicey, herbal, or tropical flavors to your palate.
The nose knows
Scent has long been an accepted central indicator for the quality of cannabis flower. Cannabis cultivated and cured to the highest standards typically exhibits a pungent yet pleasant aroma. Flowers emitting a strong fragrance are commonly referred to as having a "dank" or "loud" odor, indicating the overall quality of the flower.
Aroma and flavor are subjective, and different aromas will appeal to different palates. There are a variety of terms for the types of aromas high-quality cannabis emits, including "skunky," "diesely," and "piney." The term "grassy" is often used to describe a smell that indicates low-quality flower, but a grassy aroma doesn't necessarily denote poor quality. A distinct, pungent, and unmistakable aroma — regardless of its particular flavor — is evidence of terpenes hard at work within the cannabis plant.
So what does this mean for cannabis users? Basically, it gives merit to the idea that "the nose knows." Our bodies and brains subconsciously have a preference for a particular terpene profile.
Some people like fuel smells in their cannabis. Others prefer a fruity scent. In any case, shopping for cannabis based on scent may effectively lead the user to cultivars that best suit their needs.
Other terpene sources and how they compare to cannabis
Terpenes are the primary components of essential oils — aromatics responsible for a plant's regeneration, oxygenation, and immunity defense. Essential oils have been used for medicinal purposes for thousands of years, and extracted from a variety of plants and foods.
There's no recognizable difference, for example, between isolated caryophyllene from hops or from cannabis. However, there is a difference between the other compounds at play in cannabis compared with other plants. Further research is needed to know exactly how the remedial effects of cannabis terpenes compare with terpenes from other sources. What we have discovered is that cannabis terpenes support other cannabis molecules in producing desired effects.
Where are terpenes found on the cannabis plant?
You've probably noticed the tiny glandular hairs that cover the surface cannabis plant, giving it a crystal-like sheen and sticky feel. They're called trichomes, and they're responsible for terpene production in cannabis. Trichomes contain resin glands that make terpenes and cannabinoids such as tetrahydrocannabinolic acid (THCA) and cannabidiolic acid (CBDA), which turn into tetrahydrocannabinol (THC) and cannabidiol (CBD), respectively, when decarboxylated. In other words, almost everything a user wants from cannabis, including terpenes, are found in trichomes all over the plant's surface.
Terpenes vs. terpenoids
As the popularity of these aromatic molecules has skyrocketed in the cannabis market, the terms terpene and terpenoid have become interchangeable. But there is a notable difference between the two.
Terpenes are hydrocarbons — compounds made of hydrogen and carbon. When cannabis is dried and cured, terpene atoms are oxidized, and terpenes then become terpenoids.