Edibles are cannabis-based food products. They come in many different forms, from gummies to brownies, and contain either one or both of marijuana's active ingredients: THC (delta-9-tetrahydrocannabinol) and CBD (cannabidiol).
With the legalization of marijuana, edibles are increasing in popularity. CBD-only edibles have even been found to help treat ailments such as anxiety and chronic pain. As an added benefit, edibles don't pose risks to the respiratory system — unlike smoking marijuana.
The edible experience tends to differ from that of other cannabis products. The "high" from edibles can feel more intense, and it may last longer than the high you get from smoking.
Edibles also take longer than smoking or vaping cannabis to kick in, although many factors affect the timing.
Keep reading to learn more about edibles, including how long they take to kick in and how long the effects last, along with dosage, side effects, and precautions.
How long does it take before you begin to feel the effects of edibles?
Edibles typically take around 30 to 60 minutesTrusted Source to kick in. However, onset time depends on a lot of factors.
First, it depends on the product's active ingredients. If the product contains a high dose or concentration of THC, it could take effect faster.
Keep in mind that CBD-only edibles are not psychoactive. They don't cause the "high" typically associated with THC-infused edibles. As a result, it may be harder to identify when CBD products have taken effect.
For both types of products, onset time also depends on where in the body the edibles are being broken down and absorbed into the bloodstream.
Lozenges, gum, and lollipops kick in faster because they're absorbed sublingually
Some edible products, such as lozenges, gum, and lollipops, are ingested but not actually swallowed. In these cases, absorption occurs through the mucus membranes of the mouth. This is called sublingual absorption, and the effects are more likely to appear faster.
Chewable edibles take longer to kick in because they're absorbed through the digestive system
Chewable edibles, such as gummies, cookies, and brownies, may have longer onset times. This is because absorption first occurs in the digestive tract. From there, active ingredients enter the bloodstream and travel to the liver.
In the liver, active ingredients are metabolized before they are released back into the bloodstream and enter the brain, at which point the effects appear.
How long do edibles last?
An edible high generally lasts much longer than smoking or vaping, from six to eight hours.
Among edibles that contain THC, peak blood levels occur around three hoursTrusted Source after administration. That's when the effects are likely to be the most intense.
As with onset time, the length of an edible high depends on a variety of factors, including the dose and potency. The high from products that are chewed and swallowed may last longer than the high from products that are absorbed orally.
Individual factors, such as metabolism, weight, and tolerance, also affect duration.
Yet, it may not be possible to predict how long the effects of edibles will last. In a 2016 studyTrusted Source, researchers analyzed over one hundred thousand tweets about edibles. An "unpredictable" high duration was one of the most common adverse effects listed.
Potential side effects and downsides of eating weed
Though edible marijuana products may benefit many conditions, some potential adverse effects may occur.
The main issue with edible marijuana products is that it can be very difficult to determine an appropriate dosage. Concentrations of THC vary widely depending on different factors, such as where the product was made and the quality of the marijuana used.
Additionally, unlike smoking weed, edible marijuana products have a long latency period, meaning it can take a while — sometimes hours — for it to take effect.
When marijuana is smoked, THC reaches the brain and takes effect within a few minutes. The effects peak at around 20–30 minutes after smoking and begin to wear off within 2–3 hours .
In contrast, the psychoactive effects of edibles usually take 30–90 minutes to kick in. The high feeling lasts much longer and typically peaks at about 2–4 hours after ingestion.
The effects of edibles can last for many hours, depending on how much was ingested, as well as your body weight, metabolism, gender, and other factors.
The combination of the highly variable THC concentration and the long latency period of edible marijuana products makes them very easy to unintentionally overconsume, which can lead to unwanted symptoms, such as paranoia and impaired motor ability.
Additionally, though rare, there have been instances of cannabis-induced psychosis, a condition usually related to overconsumption of edible marijuana products that results in symptoms like paranoid delusions, extreme sedation, hallucinations, and confusion .
Other side effects related to edible marijuana products include dry mouth, sleepiness, and changes in visual perception.
Edible marijuana products can also interact with alcohol and certain medications, including blood thinners and antidepressants. Therefore, you should avoid consuming edibles with these products.
Another concern is that edible marijuana products often resemble regular candies, cookies, and other baked goods, posing a risk for children, pets, and other adults.
In fact, between 2005 and 2011, marijuana-related calls to U.S. poison control centers increased by 30% per year in states that decriminalized marijuana. Many of these calls were related to accidental ingestion of edible marijuana products .
Potential side effects
Edible side effects depend on the active ingredient.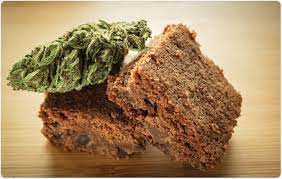 THC edibles
High doses of THC edibles can produce unpleasant symptoms that persist for several hours up to several days. This is sometimes referred to as "greening out" or a cannabis overdose.
Some symptoms associated with edible cannabis overdose include:
cognitive impairment
motor impairment
extreme sedation
agitation and anxiety
increased heart stress
nausea and vomiting
hallucinations
delusions
psychosis
CBD edibles
According to a 2017 reviewTrusted Source, known side effects of CBD include:
tiredness
diarrhea
changes in appetite
changes in weight
More research into short- and long-term side effects of CBD use needs to be done.
Other concerns
When purchasing edibles, it's important to evaluate the manufacturer carefully.
In general, reputable edible manufacturers are transparent about the contents of their products and the required dosages. A trustworthy source should take the time to answer your questions without pressuring you to purchase the product.
Still, it's not always possible to know exactly what you're getting. A 2015 studyTrusted Source evaluated the dose and label accuracy of 75 different products.
After testing the products for THC content, researchers found that only 17 percent were accurately labeled. Among products that were inaccurately labeled, 23 percent contained more THC than stated, and 60 percent contained less THC than stated.