Natural, chocolate or vegan. Today we want to share with you 3 types of recipes of marijuana cupcakes for all tastes and, above all, very easy to prepare, which is the most important thing. Take paper, pen, kitchen apron and let's get work.
We are back again with sweet recipes based on marijuana, so that everyone, you and your guests may indulge yourself, from time to time, satisfying your palate and senses, the latter, you know, has a double meaning. Since, there is nothing more pleasant than enjoying a dessert that you like, while laughing or relaxing due to the effects of marijuana.
And having remembered that important point, let's go to what we are really interested in right now: learning 3 different recipes of marijuana cupcake. But why three?
Because we want one of them to have marijuana in the muffin itself, the other one in the stuffed on the top of the muffin, that is to say, taking part in the flavored butter, and the third one, because as you well know we want all people to be able to take them, therefore, we are also going to make one for vegans, also suitable for celiacs.
Also, returning to the first two, one will have the chocolate muffin and the other will be natural. Afterwards, you decide if you prefer chocolate and marijuana in the top butter or the natural one with the marijuana grinded in the cupcake in itself. Whatever you choose… it'll be great! So… are you in? Let's get started!
Cupcakes Directions
Preheat oven to 375 degrees F (190 degrees C). Line 16 cupcake pan cups with paper liners or spray cupcake tins with cooking spray.2
Sift the self-rising flour and salt together in a bowl. In another bowl, beat the infused butter, regular butter and sugar with an electric mixer until light and fluffy. Beat in the eggs one at a time, beating each egg until incorporated before adding the next. Mix in the vanilla extract and lemon zest.3
Gently beat the flour mixture into the butter mixture, one third at a time, alternating with half the milk and half the lemon juice after each of the first 2 additions of flour. Beat until just combined; do not over mix.4
Fill the prepared cupcake liners with batter 3/4 full, and bake in preheated oven until a toothpick inserted in the center comes out clean, about 15 – 20 minutes. Let the cupcakes cool in the pan for about 10 minutes before removing them to finish cooling on a rack.Icing Directions5
Beat the cream in a chilled bowl with an electric mixer set on Low until the cream begins to thicken. Add the confectioners' sugar and lemon juice, a little at a time, beating after each addition, until fully incorporated. Increase the mixer speed to High, and beat until the icing forms soft peaks, about 5 minutes. Spread on the cooled cupcakes.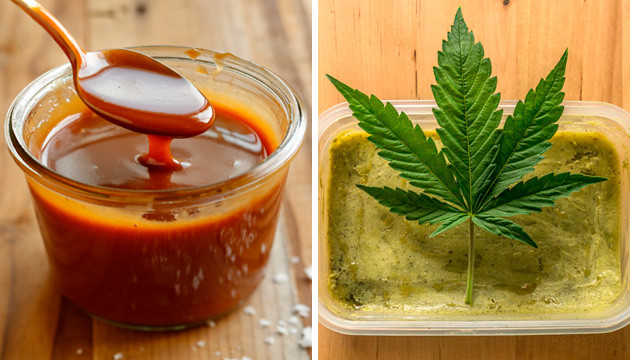 Cannabis cookies are fine in a pinch, but marijuana cupcakes are twice as nice. They take a bit more finesse and baking skill than cookies, but they aren't so difficult that they keep beginners from partaking in the baking process. For a dessert that's a cut above the rest, try one of these three recipes for marijuana cupcakes. You'll need basic baking skills, a cupcake tin, and the willingness to try something new. You need to make these recipes work – at least ¼ to ½ a cup for the cake itself. At the end of this guide, you'll get a guide to basic buttercream, which you can make plain or sub in cannabutter depending on your tolerance and taste for weed-based flavor sensations.
Table of Contents
Animal Cookie Cupcakes
Chocolate Ganache Cupcakes
Red Velvet Cupcakes
Basic Buttercream Icing
Marijuana Cupcakes with Concentrate
Animal Cookie Cupcakes
This recipe uses classic circus animal cookies to take plain vanilla cupcakes up a notch.
Ingredients:
1 ½ cups self-rising flour
1 ¼ cups all-purpose flour
½ cup unsalted butter + ½ cup cannabutter, room temperature
2 cups sugar
4 large eggs, room temperature
1 cup milk
1 tsp vanilla extract
1 cup chopped circus animal cookies
Directions:
Preheat oven to 350 degrees Fahrenheit.
Grease 12-cup muffin tin with butter or canola oil, or line with paper liners.
Combine flours together in a small bowl and set aside.
Beat butter and sugar in an electric stand mixer until smooth and creamy (About five minutes).
Add eggs and mix until combined.
Add dry ingredients and milk, scraping the bowl down twice. Mix until incorporated.
Fold in chopped animal cookies.
Pour batter into cupcake tin, so each cup is ¾ full.
Bake cupcakes 20 to 25 minutes, until a toothpick comes out clean when inserted.
Frost once cupcakes are cool.
This classic stoner snack is elevated by the transformation into cupcake form, and a little red food coloring can make a pink frosting that pops.
Chocolate Ganache Cupcakes
These semi-fancy marijuana cupcakes get their own special ganache frosting with a bit of coffee flavor – but no worries, it's simple to make.
Ingredients:
1/4 cup cannabutter
1 cup sugar
4 large eggs, room temperature
16 oz chocolate syrup
1 tbsp vanilla extract
1 cup all-purpose flour
1 tsp instant coffee granules
Directions:
Preheat oven to 325 degrees Fahrenheit.
Grease cupcake pan or insert paper liners.
Cream butter and sugar until fluffy.
Add in chocolate syrup, vanilla, and coffee granules and mix until combined.
Pour batter into cupcake tin and bake until cooked through (about 30 minutes).
Let cool.
If you'd like to make these marijuana cupcakes extra fancy, you can dip them in chocolate ganache after you frost them with buttercream and refrigerate. Ganache is easy with ½ cup heavy cream, 8 ounces semisweet chocolate morsels, and another ½ teaspoon of instant coffee.
Simply combine the ingredients in the top of a double boiler and warm until mixable. Once smooth, dip the cupcake tops in and transfer to serving dish.
Red Velvet Cupcakes
No list of marijuana cupcakes would be complete without a red velvet entry. This cannabis recipe takes a little more time and a few more ingredients than most, but it's impossible to argue with the results.
Ingredients:
1 ¼ cups all-purpose flour
¼ tsp salt
½ cup cannabutter
3 tbsp cocoa powder
1 cup sugar
1 tsp baking soda
2 tsp red food coloring
2 large eggs, room temperature
1 tsp vanilla extract
1 tsp vinegar
½ cup sour cream
Directions:
Preheat oven to 350 degrees Fahrenheit.
Grease cupcake tin or place liners.
Mix flour, cocoa powder, and salt in a large bowl.
Cream sugar and cannabutter until smooth and fluffy.
Add eggs one at a time and beat until smooth.
Add food coloring, vanilla extract, and sour cream to the mixture.
In a second bowl, blend baking soda and vinegar. After the fizzing stops, mix into the batter and stir until incorporated.
Fill cupcake tin about ¾ of the way, and bake 20-25 minutes. Let cool before frosting.