There's shows about weed, and then there's weed about shows. Wait, that's not right. Basically, there's TV shows that go really well with a little baggie, some might say a little too well *Dun, Dun, Dun!*. You can't argue with the fact that there's few things better than lighting up and tuning out with a wacko show after a long-ass day. So here's a few that might do the trick, ya stoney bums!
Check it!
The Great British Bake Off
It's true that cannabis can give you the munchies, so why not get inspired by this British (and American) hit? Check out amateur bakers making cakes, breads, pastries, and desserts in a competition to win the title of the UK's Best Amateur Baker. For a bonus, it's always fun to pick sides in reality show contestant drama and listen to the hosts dish out equal helpings of snark and praise. But, of all the shows on Netflix, this is a must watch.
Planet Earth
There is nothing more soothing than the dulcet voice of naturalist, newsman, and narrator David Attenborough as he recounts the migration of monarch butterflies through the American continent, and many other instances of natural phenomena.
A nature docuseries could be a great fit for someone crossing into green out territory. For others, nature documentaries present an opportunity to sit back, relax, and appreciate the amazing wonders of our planet.
Cosmos
If you're sick of our planet Earth, how about a trip to outer space? Neil deGrasse Tyson is the Frederick P. Rose Director of the Hayden Planetarium at the Museum of Natural History in New York City, and his series Cosmos has been ongoing since 2014.
Based on the 1980 series by American astrophysicist Carl Sagan, sit back with a blunt and contemplate the universe watching Cosmos: Possible Worlds or Cosmos: A Spacetime Odyssey.

Ancient Aliens
Are you interested in alien activity on Earth with a conspiracy theory twist? This show invites you to join the hosts as they globetrot for evidence to ascertain whether aliens actually built the pyramids, if Biblical giants walked the planet millennia ago, and if extraterrestrials provided the technology to build Stonehenge and other inexplicable monuments.
Tidying Up with Marie Kondo
With all of us spending a lot more time indoors, now's the time to think about those home organization projects that we've been putting off. Next time you have some sativa for a jolt of creativity and inspiration, sit down with Japanese organization expert and consultant, Marie Kondo. Your place will be organized in no time.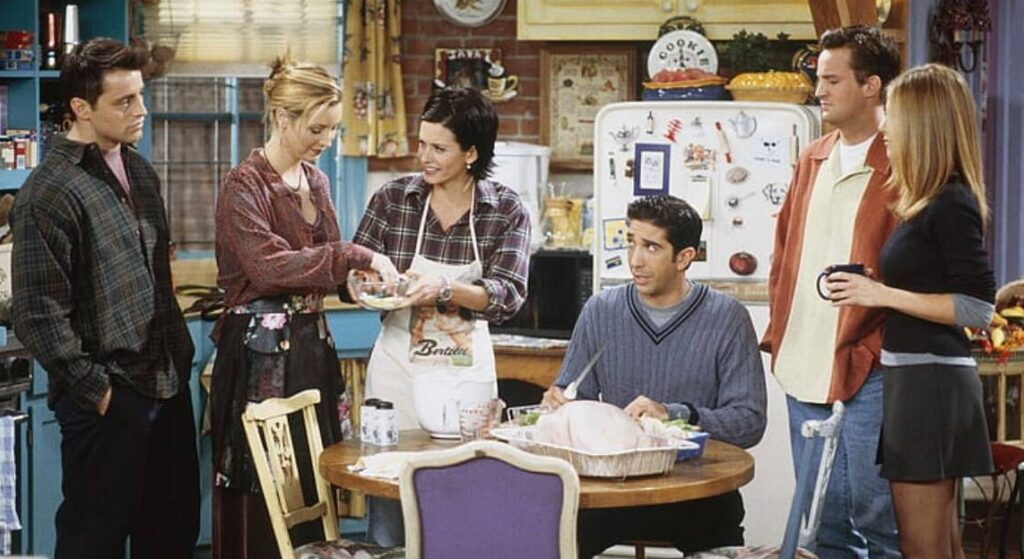 Friends
More than 16 years after its final episode, millions are binge watching these still funny and timely episodes — perhaps in an attempt to just to forget the world for a while.
Friends works well as both background comfort TV series or a means to kick back, light up, and let the day go.
The Office
The Dunder Mifflin paper company led by hapless and clueless Michael Scott (Steve Carell) is the setting for this classic mockumentary. Like Friends, The Office offers a comforting sense of dysfunctional normalcy as the archetypal workplace characters comedically blunder their way from one awkward situation to the next.
Black Mirror
For something more contemplative than the comforts offered by The Office and Friends, check out Black Mirror. This dystopian science fiction series out of the UK delivers a thoughtful, if sometimes creepy, take on modern society and the potential unanticipated consequences of new and unexamined technologies.
Saturday Night Live
A comedy sketch show coming into its 46th year, SNL has never shied away from stoner comedy and regularly hires comedians and hosts open about their cannabis use, including Pete Davidson, Woody Harrelson, and Sarah Silverman among myriad others.
High Maintenance
Interested in getting stoned and watching a show about other stoners and the guy who delivers their weed? Check out High Maintenance, a series from HBO that follows The Guy (Ben Sinclair) and chronicles his encounters with customers throughout New York City.
Big Mouth
To make you feel better about your own life as a 7th grader, check out this clever and edgy series that follows best friends Nick (Nick Kroll) and Andrew (Andrew Goldman) as they try to figure out how to manage the embarrassment and confusion of puberty. It also features helpful, if sometimes confusing, advice from ghosts and other inanimate objects like a talking pillow and the Statue of Liberty.
The Simpsons
From the comedic genius mind of Matt Groening, The Simpsons is the longest running American sitcom, now entering its 32nd year. Over 600 episodes, The Simpsons outlined a satirical portrayal of American culture and society and paved the way for other adult animation series to thrive, like Futurama and Bojack Horseman.
Rick and Morty
This adult-science fiction comedy from Justin Roiland and Dan Harmon follows a mad and often drunk scientist named Rick Sanchez and his cautious, anxiety-riddled grandson Morty Smith. Rick and Morty is a stoner favorite because of its trippy visuals, intergalactic travels, wacky characters, tongue-in-cheek political references, and a not-so-subtle nod to stoner culture.
Ugly Americans
Mark Lilly is a social worker in a New York that's seen an influx of all things supernatural. Getting everyone to live together is just another job though, whether you're a Mexican or a conscious venus flytrap. Watch this adult cartoon, it's great!
Cosmos
Cosmos is presented by the all-knowing Neil deGrasse Tyson, but the real kicker is that it's produced by freakin' Seth MacFarlane of Family Guy fame. This docu-series is no joke though, as it takes viewers on an informative journey through space and time itself.
Da Ali G Show
Sacha Baron Cohen was always a G, the world only realised it after Borat. Way before that though, he was doing Da Ali G Show, inappropriately interviewing celebrities under the guise of London Rastafarian rudeboy Ali G. Watch!
It's Always Sunny In Philadelphia
Probably the most fucked up show on this list. A group of friends run a pub and get into the weirdest situations possible. I don't know how this show got approved for TV, but I'm so glad it did.
Anthony Bourdain: No Reservations
Food shows are a no-brainer when you're feeling a little schmoozy. They pair great with the munchies (unless your fridge is empty) and watching Bourdain saunter along eating and raconteuring makes you feel like a bit of a food savant yourself.
Portlandia
This sketch show stars Carrie Brownstein and Fred Armisen, comedians extraordinaire and all around funny beings. Watch for the absolutely far out distances their sketches seem to end up in.
Ultimate Beastmaster
If you're interested in watching uber fit people from six countries attempt to master an incredibly difficult obstacle course, check out Ultimate Beastmaster. Similar to American Ninja Warrior, Ultimate Beastmaster differentiates itself by featuring six localized versions with local actors, comedians, and hosts acting as commentators as athletes compete to master "the Beast" (aka the obstacle course) for a cash prize.
Trailer Park Boys
This Canadian mockumentary follows the misadventures of Sunnyvale trailer park residents and ex-convicts Bubbles, Julian, and Ricky as they sip rum and cokes, mess with local police, and grow weed.