Marijuana tea, also known by other names, such as weed tea, ganja tea, and marijuana tea, is a simple and soothing way to consume weed. However, it is not as simple as just throwing in the buds of weed into hot water and then bringing it to a boil. It requires precision and the right recipe for the required effect. This tea, when prepared correctly, is known to have a longer-lasting effect when compared to smoking weed – and it takes around 30 to 40 minutes to kick in. Given patience and time, weed tea can provide you with a simple and relaxed experience.
Does weed tea get you high?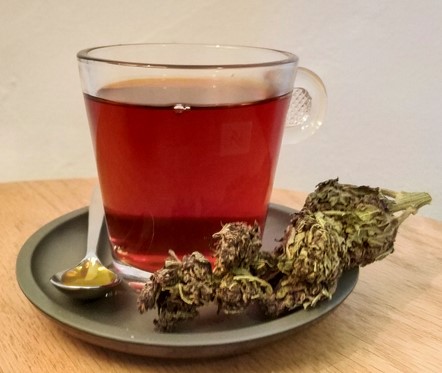 Making a marijuana-infused tea that provides the medicinal and intoxicating effects that cannabis has to offer isn't as simple as you might think. Accessing THC in the plant can be a little finicky thanks to decarboxylation and solubility factors, but fear not: Once you understand a few simple concepts, it's all green fields from there!
During the process of decarboxylation, the non-intoxicating compound THCA is converted to the compound THC, activating different medicinal and intoxicating properties (read more about THCA's unique medicinal properties here). The heat applied to cannabis when smoking or vaporizing provokes decarboxylation without any extra effort on our part. When making edibles, the process naturally occurs when cannabis is cooked with butter or oils, or when hash or kief are added to a favorite recipe and then heated on a stove.
If you choose to decarboxylate your cannabis using a heating method before adding it to the tea, remember that the optimal time and temperature for decarboxylation may vary depending on the following factors:
The amount of moisture in your product
How much product you use
The type of oven you have access to (e.g., gas or electric)
How long does weed tea take to kick in?
Like edibles, weed tea has to pass through your stomach for digestion, and then metabolized in your liver. This takes a lot longer than smoking weed, which hits you in a couple minutes through your lungs. You may have to wait an hour or two to start to feel the effects.
When drinking weed tea, and consuming edibles in general, start low and go slow. Drink a cup and wait; you can always make another one if you don't feel anything.
How to Make Cannabis Tea?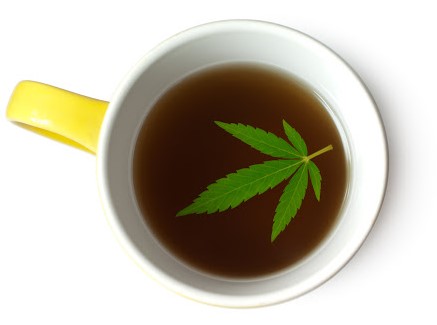 You can make weed tea in two different ways — either with the buds of the cannabis plant or with the leaves and stems of the marijuana plant. The former is stronger and slightly more intensive, while the latter is a milder tea that is particularly beneficial in getting good sleep. While marijuana or weed remains illegal in many states, its extensive list of health benefits including its inhibitory effects on the body makes it popular worldwide. It is advised that you check your country's laws regarding marijuana usage before making this tea.
It is also important to note that oftentimes people confuse cannabis tisane with its tea. What is categorized as tea is only something that contains Camellia sinensis/assamica, essentially green tea, in it. An infusion prepared without it and only with the cannabis leaves or flowers will instead be classified as a tisane. Now, let's take a look at how to prepare it – tea and tisane, both.
Ingredients
Weed Bud Tisane (Medium Strength)
1/2 gram marijuana buds/flowers [6]
1/2 tsp butter
2 cups water
1 tsp honey/sugar (if desired)
Weed Leaf/Stem Tisane (Mild)
2 gram marijuana stems/leaves
2 cups water
1 tsp honey/sugar (if desired)
1 cup half & half
Marijuana-infused Tea (Chai)
2 bags Assamica black tea
2 cups water
1/4 cup milk [7] any fatty milk or half and half
2 tbsp cannabis oil or tincture
2 saffron rock candy sticks for flavor
Instructions
Weed Bud Tisane (Medium Strength)
Grind the marijuana buds into fine pieces. Then add the ground buds to 1/2 a tsp of butter and mix it well in a bowl.
Continue to stir the butter and marijuana together, until you see all of the marijuana coated with a thin layer of butter.
In a medium pot, bring some water to a simmer and gently spoon in the marijuana butter mixture. Scrape the sides of the butter/bud bowl to get all the ground pieces of marijuana.
Keep the water to a simmer and stir the mixture gently for about 30 minutes while the tea brews.
Strain the mixture after allowing it to cool for a few minutes. Add honey or sugar for taste, and enjoy the infusion!
Weed Leaf/Stem Tisane (Mild)
Grind the weed stems in a grinder to extract more THC from them. For the uninitiated, THC is the chemical compound present in marijuana, which enables it to lower anxiety and relax the body and mind.
Add water in a pot and bring it to a boil. Now, add weed stems and half and half in the pot. Keep stirring for almost 5-7 minutes.
Next, strain the resulting mixture into a teacup. Add honey or sugar, if needed, and enjoy the soothing concoction of mild marijuana tea!
Marijuana-infused Tea (Chai)
Boil the water in a pan and pour it in two separate cups. Put one tea bag in each cup and let it steep for two to three minutes.
In another cup, take the milk and add cannabis oil or tincture to it.
Now, remove the tea bags from the water infusion and then add the cannabis-infused milk in both the cups evenly.
Your cannabis tea is ready to be served now. Add the saffron stick to your tea for a sweeter flavor and enjoy it!
Cannabis tea with rose and chamomile
Serves 1
Prep time: 5 minutes
Steep time: 5-10 minutes
Dosage: We recommend 2 tsp for this recipe, but it depends on the potency of your cannabis. You can always add more or less depending on your tolerance.
Ingredients:
Cannabis infused honey (optional)
2 teaspoons ground cannabis trim, stems, or buds
Coconut milk, optional
2 teaspoons dried chamomile
2 teaspoons dried rose buds
Directions:
You can choose to decarboxylate your dried herb beforehand or not. (Again, this depends on whether you're looking for the benefits of THCA or THC.)
Add all dried flowers to a tea infuser and steep in hot water for 5-10 minutes.
Enjoy with additional cannabis-infused honey and/or coconut milk for added effects.
Cannabis golden milk with medicated coconut oil
Serves 1
Prep time: 5 minutes
Cook time: 20 minutes
Dosage: This depends on the potency of your cannabis coconut oil. You can always add more or less depending on your tolerance.
Ingredients:
1 cup unsweetened almond milk
1 cinnamon stick
1 1" piece fresh turmeric, unpeeled, thinly sliced, or 1/2 teaspoon dried turmeric
1 ½" piece ginger, unpeeled, thinly sliced
1/4 teaspoon whole black peppercorns
1 Tbsp coconut oil (cannabis-infused or not)
1 Tbsp honey (cannabis-infused or not)
Ground cinnamon, for serving
Directions:
Whisk almond milk, cinnamon, turmeric, ginger, honey, peppercorns, and 1 cup water in a small saucepan; bring to a low boil.
Reduce heat and add the cannabis coconut oil.
Simmer until flavors have melded, about 10 minutes.
Strain through a fine-mesh sieve into mugs and top with a dash of cinnamon.
Notes
It is important to be mindful of the amount of marijuana you are adding to your tea, as very high or very low levels of it can either have serious health implications or no effect at all.
It is also necessary to make sure your cannabis goes through the decarboxylation process as that ensures the THCA in it (non-intoxicating compound) gets converted into THC. The decarboxylation process naturally occurs when cannabis is cooked with butter or oils, in case of edibles. You can also add hash or kief to your recipe for the same.