Making your own cannabis oil gives you complete control over the products that go into your oil, as well as to some degree the potency level. Determining the potency level when you make cannabis oil at home can be challenging. If you are new to making the oils, go with the least amount of cannabis. Then work your way up as you get more accustomed to how the product makes you feel and how your body reacts.
What is Cannabis Oil?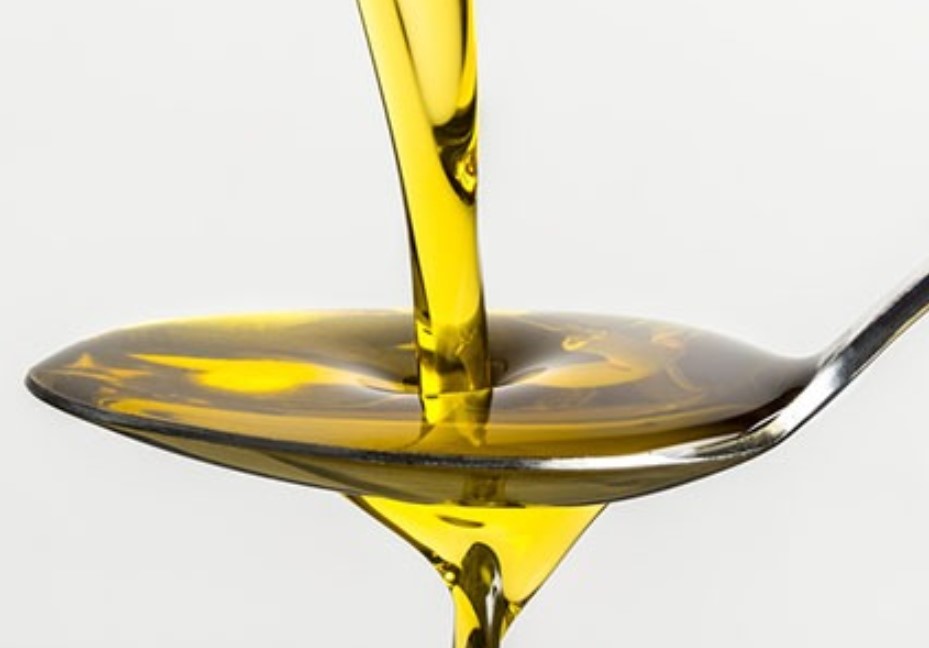 Cannabis oil is an infusion of oil, such as coconut or olive, and parts of the marijuana plant called cannabis sativa. Commercial cannabis oil products have a concentration of at least 0.3% of THC (Tetrahydrocannabinol). Many have between 50 to 80%. THC is the compound in the marijuana plant that has a psychoactive effect, the stuff that gives you that high feeling.
Cannabis oil is not the same as CBD oil. CBD is classified as hemp derived. Hemp is also made from the Cannabis Sativa plant but is modified to grow with little to no THC compounds. This form of the plant is often called industrial hemp. To be sold as CBD oil and other CBD products, the substance must have less than 0.3% of THC. Most commercial CBD and hemp products have no THC. They can't get you high.
CBD oil and its derivatives do have some fantastic benefits, especially for people who don't want a product with THC. Cannabis oil has quite a few benefits CBD oils don't, making it a much more potent substance for your health. What are the Benefits of Cannabis Oil?
There is a long list of benefits associated with the use of Cannabis oil. Compounds in the substance have been shown to have significant pain relief, anti-inflammatory, and anti-seizure properties. Cannabis oil has become widely used as a healing substance to help ease symptoms of cancer, and some of the side-effects from cancer treatments including nausea and pain. Some other potential uses for cannabis oil are for the relief of symptoms and treatment of health issues including:
RECIPE 1
Anxiety and depression
Chronic pain
Insomnia
Acne
Eczema and dry skin
High blood pressure
Glaucoma
Diabetes
Arthritis
Multiple Sclerosis
Epilepsy
And many more
Cannabis and Cannabis oil is a versatile product. It can be used topically or mixed into creams, ingested itself or added to food and drinks, and inhaled either as smoke or vapor.
Having your own cannabis oil at home can be used in a variety of ways besides as a remedy for health issues. Cannabis oil can be substituted for your usual go-to cooking oil and may become your favorite. Depending on the oil you use to make the mixture, you can combine your cannabis oil with beeswax and aloe for an infused topical. Using coconut oil works best for this. You can even make tea. Use it the same way around your home as you would any oil infusion.
Do it Yourself Cannabis Oil
There are a lot of different recipes for making DIY Cannabis oil. For beginners and those of us who aren't quite adept at cooking techniques, here is a more basic and relatively easy recipe for homemade cannabis oil. Make sure you have the time to complete this recipe. Depending on the cooking method you use, it can take up to a good 8 hours to prepare.
Ingredients:
1 cup or less of ground cannabis flower or the whole plant (depending on the desired potency)
1 cup cooking oil of your choice (coconut and olive oil work well)
Tools:
Grinder (hand grinder works best)
Double-boiler, slow-cooker, or saucepan
Strainer or cheesecloth
*For this recipe it's highly recommended that you do not use a microwave oven.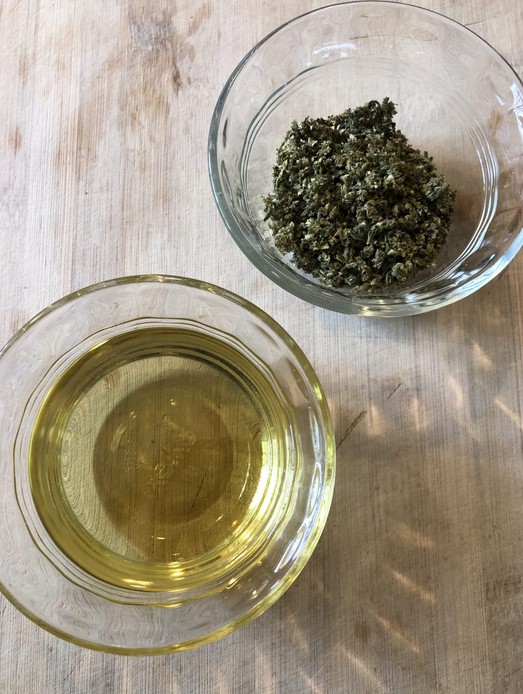 Step 1: Grind the cannabis flower or the plant down to a size that won't fit through the strainer.
Step 2: Combine the oil and ground cannabis in a double-boiler, slow-cooker, or saucepan
Step 3: heat on low for the recommended period of time shown below, stirring occasionally (temperature of the mixture should not reach higher than 245 degrees)
3-4 hours in a saucepan
4-6 hours in a slow-cooker
6-8 hours in a double-boiler
Step 4: Add water if necessary during cooking to keep the mixture from boiling down.
Step 5: When the mixture has stopped bubbling, turn off the heat and let cool.
Step 6: Strain the oil mixer in a strainer or cheesecloth (Don't squeeze the cheesecloth!)
Step 7: Place the oil in a sealed container
When stored properly, your homemade cannabis oil should last for approximately two months. An air-tight container, preferably glass or silicone, works best to keep your product fresh. Always keep cannabis products out of direct sunlight. Store in a dry, dark place such as a cupboard. For a longer shelf-life store your mixture in the refrigerator. Always make sure you store your cannabis oil in a place that is out of reach of any children, or pets.
For those looking to make cannabis oil that has all of cannabis's properties, including the psychoactive ones, we highly recommend using a strain with high THC levels or more THC than CBD. This allows you to create a cannabis oil that's capable of alleviating intense muscular pain, reduce epileptic attacks, increase appetite, treat insomnia etc. It's also a much safer way to consume cannabis as you don't need to inhale any nasty smoke.
Ingredients and materials:
500-700ml virgin extra olive oil
20-25g dry and cured cannabis
One kitchen thermometer
One kitchen spatula
Large pot (3-5L)
Small pot (1L)
A weed grinder
A coffee filter
One thin metal sieve
One glass container with lid
5L bottled water
How to make cannabis oil | RECIPE 1
This first recipe is the easiest to make, as it hardly needs much work and it just requires a bit of patience.
1: Begin by washing and decarbing your cannabis using your preferred process. If you want a less psychoactive effect and more medicinal properties from your oil, simply wash your cannabis before using and skip the decarb process (only do this if you do not want a psychoactive end result).
2: Get a glass bowl that's large enough for the amount of oil you plan on making
3: Pour your preferred virgin extra olive oil into the bowl
4: Add 20-25g of dried, cured cannabis (not ground)
5: Let it macerate in a dark, dry place for a couple of weeks, Mix every now and then so that the cannabis fully releases its properties
6: After a couple of weeks it should be ready to consume
7: Do not remove the cannabis
8: If the cannabis oil turns out too strong, pour the oil into a new glass bottle and add one fourth virgin extra olive oil in order to soften the effect. Shake well and let it sit in the dark for a couple of days so that it mixes properly
9: Your cannabis oil is now ready to use as a food supplement, as drops or even as a skin cream!
RECIPE 2
This second cannabis oil recipe is a bit more hands-on and much faster. You'll need to grab your cooking gear and get to it! The resulting oil form this recipe is much more refined than the first recipe we dealt with.
1- Boil your cannabis
Place your weed in a large pot and add enough water to cover the cannabis. Once it begins to boil, lower the heat setting to the lowest and keep it there for 10 minutes, stirring every now and then.
2- Strain your cannabis
After 10 minutes, you'll need to strain your cannabis. Pour your flowers into the sieve and let the water drain out without putting any pressure on it. Repeat the entire process, boiling the weed again, until the water comes out clean (3 times should do it).
3- No water
Once you've strained your cannabis you'll need to try and get it to lose as much water as possible. In order to keep all of its cannabinoids intact, we recommend covering a flat surface with non-aromatic kitchen paper and placing your cannabis on top. This allows the kitchen paper to absorb any leftover water without needing to press your weed down.
Remember: this is done to fully clean your cannabis, removing dust, insects, any products, chlorophyll and leftover minerals. This process is entirely safe, as marihuana doesn't dissolve or attach to water and no cannabinoids are lost.
4- Add your virgin extra olive oil
Once your cannabis is clean and all water has been extracted, you'll need to place it in a small pot and add your virgin extra olive oil.
5- Bain-Marie
In order to heat your cannabis in the right way so that it dissolves all of its cannabinoids in the oil, first you'll need to fill the large pot with water and place the smaller pot, the one with the oil and cannabis, floating in the water in the larger pot. Boil the large pot.
6- Bain-Marie timing
Once the water is boiling, the cannabinoid-assimilation process has begun. This can be quite a slow process, taking a few hours, although it's much faster than the first recipe. For the best possible results, we recommend continuing this process for two to three hours, mixing every now and then. In order to get perfect results, try and keep the temperature at a stable 100°C. You can use a kitchen thermometer for this purpose.
7- Bottling
After the bain-marie, you'll need to let the liquid cool down in its pot. Once it's cooled down you should strain the mixture using the coffee filter. Do it with incredible care, making sure that no bits of cannabis get through the filter. Your cannabis oil is now ready!
8- How to store cannabis oil
Once you've made your oil, you'll need to store it in a dark, cool area. This allows cannabinoids to stay 100% potent for much longer. We recommend keeping the main bottle in a dark place and using a small oil bottle for your food.
Cannabis oil has a wide variety of health benefits from easing pain to reducing anxiety. With few industry-wide regulations, commercial cannabis oil can contain materials you may not want in your product. Creating your own homemade cannabis oil is the best way to ensure you know exactly what is in your mixture.