Unless your Grandma was more into jam bands than making jam, you've probably never tasted pot brownies that could even compare to her delicious, fudgy chocolate-swirl brownies. Until now. The recipe comes from Denver's Sweet Grass Kitchen, one of Colorado's largest distributors of cannabis-infused edibles, and winner of this year's People's Choice for "Best Edible Products" at the Cannabis Business Awards.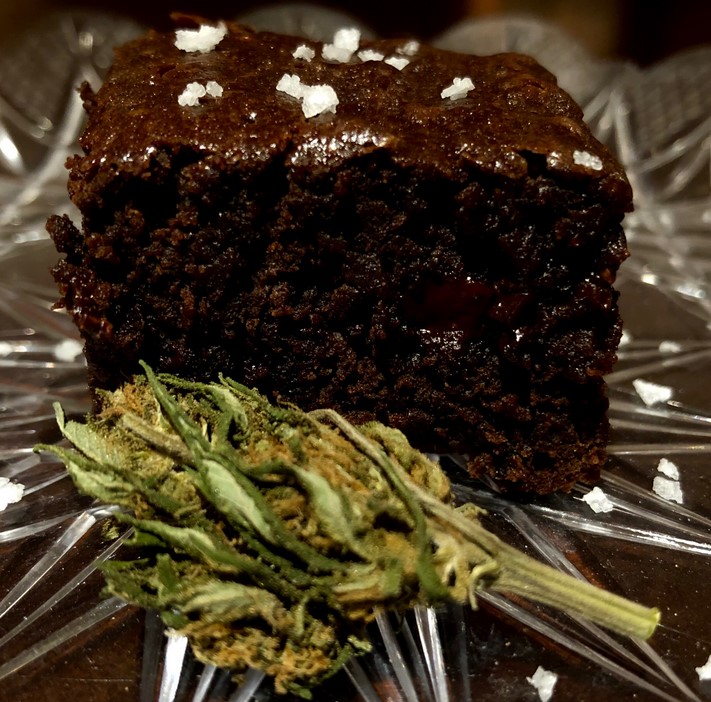 Lauren Finesilver, executive chef at Sweet Grass, tweaked her Grandmother's recipe slightly by adding cannabutter, but the rest remains true to the original. The secret to these brownies' rich, fudgy consistency is dark chocolate made with 60-70% cacao. "Cocoa powder doesn't have enough chocolate flavor to balance out the cannabis," she says. Finesilver has tried her fair share of pot-brownie recipes, including her Dad's from the '70s. "His recipe included rum-soaked raisins and a 'lid' of pot with seeds, stems, and everything. They're the kind of brownies that knock you out for days."
These brownies won't do that, but one or two servings (depending on your tolerance) will give you a nice, euphoric feeling after about an hour or two. "It's the edible equivalent of smoking a joint," says Finesilver. And if you do get the munchies, please, please don't eat more brownies. Just nosh on some chimichachos, pizza rolls, or a tater tot grilled cheese instead.
This recipe uses cake mix instead of brownie mix, which makes it a little lighter. Perfect for those who don't want "fudge-like" brownies, but still want something simple to make! I personally prefer a lighter brownie to a fudge-like brownie, and I've been happy with this pot brownie recipe for that purpose!
Simple Weed brownie recipe
Ingredients
1 pkg. Devil's Food cake mix
1 cup (8 oz, or 2 sticks worth) cannabutter
3/4 cup Evaporated Milk
(optional) 1/2 cup chopped nuts and/or chocolate chips
Directions
Preheat oven to 350° F.
Melt cannabutter in a large bowl
Add cake mix, evaporated milk and nuts/chocolate (optional), and combine it into a thick batter.
Spread batter into an ungreased 13″ x 9″ baking pan. It will be pretty thin, but should fill the whole pan. Bake for 10-15 minutes, or until edges start pulling away from the sides and the center is set.
Cool in pan on wire rack and cut into 15 squares
"To-die-for" Weed brownie
Ingredients:
4 large eggs
⅔ C cannabis-infused oil
2 C sugar
1 ½ C all-purpose flour
3 Tbsp cocoa powder
1 tsp baking powder
½ tsp salt
1 C chopped pecans
1 tsp pure vanilla extract
Martha Louise Stewart's Chocolate Icing (recipe below)
Directions to make the weed brownies:
Preheat oven to 350˚F. Butter a 9" x 13" baking pan; set aside.
In the bowl of an electric mixer fitted with the paddle attachment, beat eggs on low speed. Add cannaoil and sugar, beating for 10 minutes.
Meanwhile, sift together flour, cocoa, baking powder, and salt. Gradually add egg mixture, beating just until combined. Stir in pecans and vanilla.
Pour batter into prepared baking dish. Bake until edges just start to pull away from pan, about 35 minutes. Transfer to a wire rack to cool. Spread icing over brownies; allow to set before serving.
Easy weed brownie recipe
Ingredients:
1 large egg
2 ½ C confectioners' sugar
2 tsp cocoa powder
1 tsp pure vanilla extract
2 Tbsp butter, melted (use cannabutter if greater potency is desired)
Directions:
In the bowl of an electric mixer fitted with the paddle attachment, beat egg with 1 cup sugar on low speed. With mixer running, add 1/2 cup sugar and cocoa into egg mixture; mix well. Add remaining 1 cup sugar, vanilla, and butter next beat to combine.
Magic weed brownie recipe
Ingredients:
Sugar – 1 cup
Cocoa powder – ¾ cups
Vanilla extract – 1 teaspoon
A pinch of salt
Water – 2 tablespoons
Cannabis butter – 1 stick (around 4 oz, 120 grams)
Eggs – 2 large eggs
Flour – a bit over a ⅓ cup
Chocolate topping (or some other topping)
Directions:
Make cannabis butter (I use the Magical Butter machine and this Butter Tray for this, or follow these instructions on how to make DIY cannabutter).
Preheat your oven to 325°F (162°C).
Grease your brownie pan with regular butter. We suggest you use a stainless steel pan since they will prevent your brownies from sticking.
Add sugar, cocoa, vanilla, salt, water and cannabis butter to the mixing bowl. Whisk to blend all the ingredients together.
Add eggs, one at a time, beating them as hard as you can with a whisk until the mixture is glossy.
Add flour to the bowl and whisk the entire mixture for about 3 minutes.
Bake the mix for about 20-30 minutes. Just like with any other brownies, you can find out whether they are done by poking them with a toothpick inserted until it comes out clean.
Use a spatula to cut and move the brownies to a metal wire rack in order for them to cool down.
Be sure to add toppings such as chocolate chips or ice cream.
Weed Brownie Recipe
Ingredients:
7 ½ tablespoons (3 ¾ ounces) unsalted butter
1 ½ teaspoons (1/4 ounce) cannabutter
6 ounces dark chocolate, 60-70% cacao
1 cup all-purpose flour
1/2 teaspoon baking powder
2 large eggs, at room temperature
1 cup sugar
1 teaspoon pure vanilla extract
1/4 teaspoon salt
Directions:
Preheat oven to 350℉. Grease an 8-inch square cake pan with butter or cooking spray; set aside.
Melt butters in a medium saucepan over medium heat. Stir in chocolate until combined and smooth. Remove from heat and allow to cool for 5 minutes.
In a small bowl, whisk together flour and baking powder.
In a large bowl, whisk together eggs, sugar, vanilla, and salt until fluffy and light yellow. Add chocolate mixture and mix until combined. Add flour mixture and mix until combined.
Pour into greased pan and bake for 20-25 minutes, or until the edges pull away from the pan and the top has an even, shiny crust. Let cool for 20 minutes.
Cut into 12 even pieces. Serve warm (can be stored in an airtight container at room temperature for one week or in the refrigerator for up to a month).
Mario Batali's Double-Chocolate Pot Brownies
In honor of those Broncos, their crazy mile-high city, and their weed-friendly state, I'm offering a rocky mountain high option. (I'm actually making regular brownies but if you happen to be in Colorado or any other marijuana-friendly state, go for the add-in marked "Optional" below.)

Note: All of the expected disclaimers apply. Make sure you purchase from a trusted dispensary. And if you do "indulge," make sure you're not driving and that you're hanging with cool people. Basically, don't do anything stupid.
Ingredients:
1/2 cup butter, cut into 4 equal pieces
4 grams high quality marijuana, cleaned and ground (optional)
1/2 cup Dutch-process unsweetened cocoa powder
1/2 cup granulated sugar
8 ounces milk-chocolate chips
1 teaspoon real vanilla extract
2 extra-large eggs
3/4 cup unbleached all-purpose flour
Confectioners' sugar, for dusting
Directions:
Preheat the oven to 325° F. Grease an 8-by 8-inch baking pan.
In a small saucepan over medium-low heat, melt the butter, the marijuana (if using), and cocoa powder, stirring continuously until the butter is just melted. Use a rubber spatula to transfer the cocoa mixture to a large mixing bowl.
Let the cocoa mixture cool for 2 minutes. Add the sugar, chocolate chips, and vanilla and stir with a wooden spoon until combined. Add the eggs 1 at a time, stirring so that each is well combined. Add the flour and stir until just combined. Do not over-mix.
Transfer the batter to the prepared pan and bake on the center tack for 22 minutes or until a toothpick inserted in the center comes out clean or with tiny crumbs.
Dust with confectioners' sugar, cut into 9 squares, and serve. Or, store for up to 2 days in a tightly-sealed plastic container.
If you've been considering what edibles to tackle baking next, and wanted something a little more traditional, yet still equally as original, then these delicious pot brownie recipes are for you.
Pot brownies are convenient to create and do not require a lot of time, especially if you already have some cannabutter on hand.